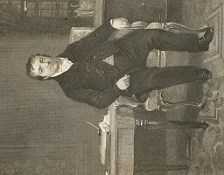 Fort Union: The Briefest of Overviews

On the spacious plains in 1828, near where the mighty Missouri and Yellowstone Rivers joined, John Jacob Astor's American Fur Company built what became its most famous fur trade post. Although called a fort, the post was neither a government nor a military installation, but a privately owned commercial establishment founded to engage in business with the Northern Plains Tribes. Built at the request of the Assiniboine nation, Fort Union Trading Post, then called Fort Union, quickly emerged as the Upper Missouri's most profitable fur trade post. This trade business continued until 1867, giving rise to a uniquely diverse, peaceful, and productive social and cultural environment that helped make Fort Union western America's longest-lasting fur trade post.
From 1828 to 1867, seven Upper Missouri tribes—Assiniboine, Plains Cree, Blackfeet, Plains Chippewa, Mandan, Hidatsa and Arikiara—annually traded buffalo hides, beaver pelts, and other furs for hundreds of goods imported from eight countries. In exchange for furs that ranged from grizzly bear and bison to mice, tribal trading partners received manufactured materials such as calico cloth, guns and ammunition, clothing, pipes, beads, and cooking ware. On average, the post received more than 25,000 buffalo robes and sold more than $100,000 in merchandise each year. The post also provided federal Indian agents with a base of operations and storage warehouse before the national government established a permanent presence in the Trans-Mississippi West after the Civil War.