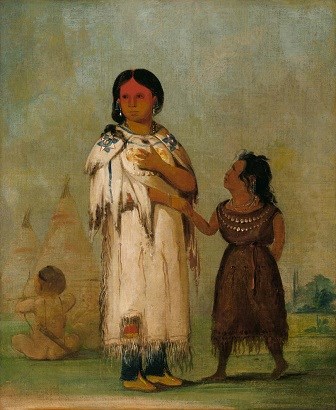 Assiniboine Origins
Assiniboine, pronounced uh-­SIN-uh-boin, comes from the Chippewa or Algonquian language family and means "those who cook with stones." This refers to stone boiling, the practice of heating stones directly in a fire and then placing them in water to boil it for cooking. British explorers and traders also used the name "Stoney" for the tribe. The Assiniboine term for themselves is "Nakodabi."
The Assiniboine speak a Siouan dialect and were once part of the Yanktonai Sioux, living as one people with them in the Lake Superior region of present-day Minnesota and southwestern Ontario. The Assiniboine split from the Sioux around 1640 and migrated westward onto the northern plains. They adopted the plains culture, becoming nomadic hunter-gatherers who moved their villages when necessary to find food. Assiniboine dress, shelters, tents, and customs are similar to those of the Plains Cree of the trans-border region of North Dakota, Montana, and Canada.


After acquiring horses through trade with other Indians, the Assiniboine ranged over greater expanses searching for buffalo and wild plants. Sometimes they traded meat and pelts with sedentary tribes on the Missouri River such as the Mandan and Hidatsa, receiving in exchange corn, squash, beans, sunflowers, and tobacco.