Date:
March 13, 2018
Contact:
Lorenzo Vigil
, 505-425-8025 ext 226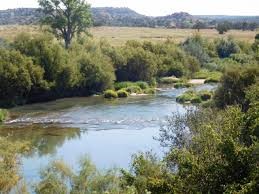 Watrous, NM: The ecological balance needed to maintain natural habitats for both plant and wildlife is often at risk to a variety of factors, both manmade and natural. Everything form pollution, to overgrazing, and the occasional natural disaster can upset the structure of these habitats. Throughout the 19th and 20th centuries these habitats along the Rio Mora would be forever changed by farmers, ranchers, and the U.S. Army. Join Biologist Brian Miller and discover the incredible work going on to restore the natural landscape of the Rio Mora. This program will be held at the CCHP/Santa Fe Trail Interpretive Center at 116 Bridge Street in Las Vegas, New Mexico on Thursday, March 15, 2018 at 7:00PM.
This program is free in partnership with the Las Vegas Citizens Committee for Historic Preservation and the New Mexico Humanities Council. For more information, contact Fort Union National Monument at (505) 425-8025, visit www.nps.gov/foun, or like on us on Facebook at www.facebook.com/FortUnionNM.