Date:
June 12, 2018
Contact:
Lorenzo Vigil
, 505-425-8025 ext 226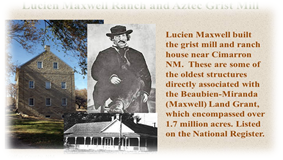 Whether in history books or driving through Northern New Mexico, the chances are that you've at least heard of the name Maxwell. Lucien Maxwell would become one of the largest landowners in the New Mexico Territory with much of the landscape still bearing his name. From Land Grants to Billy the Kid join author Harriet Freiberger and discover the legacy left by Lucien Maxwell.
This program will be held at the CCHP/Santa Fe Trail Interpretive Center at 116 Bridge Street in Las Vegas, New Mexico onThursday, June 21, 2018 at 7:00PM.  This program is free in partnership with the Las Vegas Citizens Committee for Historic Preservation and the New Mexico Humanities Council.