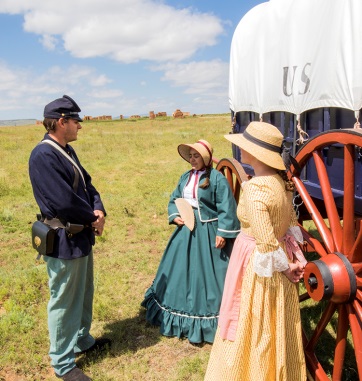 News Release Date:
August 27, 2015
Release Date: Immediate
Contact:Lorenzo Vigil, lorenzo_vigil@nps.gov, 505-425-8025
"Camp of Instruction" - September 12, 2015
Watrous, NM:At the onset of the Civil War in the spring of 1861, thousands of native New Mexicans would find themselves at one of two camps quickly established at Fort Union to train and instruct the new recruits in the tactics of the US Army. Many of these soldiers would go on to serve with distinction in numerous battles and engagements in the Civil War and the Indian Wars through 1868. On September 12, 2015, Fort Union National Monument brings these historic camps of instruction to life, and invites you to step back in time and join the men and women of the 3rd Regiment New Mexico Volunteers as they welcome new members, carryout company drill, interpret camp life, and conduct 19th Century small arms and artillery demonstrations. The event runs from 10:00 am –3:00 pm.
September 12, 2016 Camp of Instruction Full Press Release (pdf 73.6 kb)