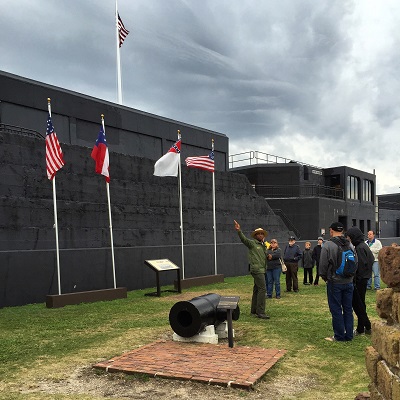 Fort Sumter
The Rangers and Volunteers at Fort Sumter offer topical programs throughout the week. These programs are given aboard the Fort Sumter Tours Ferries and at Fort Sumter. Guided tours and private tours are not typically offered by Rangers because of the high volume of visitation at this historic site. The following is a list of programs offered at Fort Sumter National Monument:
The Union is Dissolved!: On December 20, 1860 Charleston seceded from the Union, which caused a domino effect throughout the South. Four month later, artillerists fighting for the newly formed Confederacy fired the exploding cannonball that started the bloodiest war in United States History. After 1861, both United States and Confederate troops struggled for four years for control of Charleston Harbor, which was important because of its strategic significance as the lifeline of the Confederacy and its symbolic significance as the place where the first state seceded form the Union and the place where the Civil War began.
Flags of Fort Sumter: In the midst of a hail of cannon fire, Sergeant Peter Hart bravely hammered the 33-star flag onto a temporary flag pole and raised it over the brick and mortar of Fort Sumter. Join a staff member and learn more about the historical flags that witnessed the turmoil of war.
Cannon Conversations: Learn how the soldiers at Fort Sumter would have loaded their cannons and imagine what it would have been like to serve on an artillery crew during the Civil War in this interactive program.
Stripes of Valor, Stars of Unity: A story and ceremony of the American Flag : Join park staff for this moving ceremony and learn more about handling an important patriotic symbol: The United States Flag.
A City of Ashes: On August 21st at 1:30am the order was given to the volunteer detachment from Company D of the 1st Maine to fire a 200 pound artillery shell from a rifled and banded cannon known as the "Swamp Angel" at St Michael's steeple in downtown Charleston. From 1863 to 1865 the Union forces used Morris Island as a strategic point to try to destroy not only the streets and homes of Charleston but the sheer spirit of the Charlestonians.
Bite the Bullet: Did you know that a well-trained soldier could load and fire three times in one minute? Join Park Rangers to learn the steps for loading and firing a 19th century gun and witness a firing demonstration.
If this Man Should Fall, Who Will Lift the Flag and Carry On?: Batter Wagner, located on Morris Island in Charleston Harbor, bore witness to some of the fiercest fighting in the Civil War and to the courage of African American soldiers in combat. In the attempts to take Morris Island in July 1863, the 54th Massachusetts regiment stood out as one of the first all-black regiments to see major combat as free men following the Emancipation Proclamation.
Bottles and Bottlenose Dolphins: Have you noticed the Atlantic bottlenose dolphins swimming in Charleston Harbor? Join a ranger on the boat ridge back form Fort Sumter to learn more about these mammals and how we can better protect them.
Coastal Creatures: Did you know that manatees can weigh over 1,400 pounds? That is half the size of a compact car! Join park staff on the ferry ride back form Fort Sumter and play "Coastal Creatures" with a ranger to learn about the many coastal creatures that inhabit Charleston Harbor.
Junior Ranger Recognition: Help our Rangers protect and preserve America's special places by becoming a Junior Ranger for Fort Sumter National Monument. Complete the scavenger hunt and find the secret hidden mysteries in the fort for your chance to get a recognized as a next generation steward for our National Park.
This Land is Our Land!: In celebration of the National Park Service's 100th Birthday, Rangers and staff are reminding visitors to Find their Parks and learn about the many natural and cultural resources that have been set aside for the enjoyment of this and future generations.
The programs offered are by staff choice and are subject to change.
---
Fort Moultrie
Guided tours are offered daily at 11:00am and 2:30pm. Special programs are offered weekly based on staff availability. Fort Moultrie is available year-round for a self-guided tour. Check in at the Fort Moultrie Visitor Center upon arrival to get a park brochure and orientation.

From September through May, school groups of up to 45 may schedule a guided tour by calling (843) 883-3123 x 20. Larger groups can take a self-guided tour by making a reservation. Please call well in advance to ensure availability.