Accessibility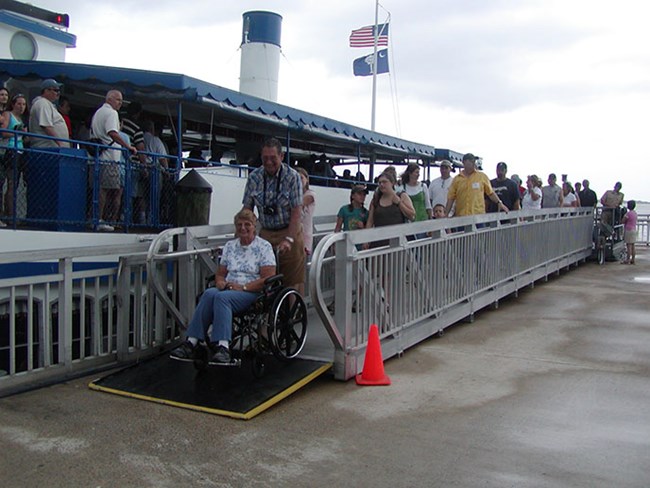 Service Animals
Service animals are permitted in all park buildings. For a definition of a service animal, please see the Americans with Disabilities Act (ADA) definition. Please note that pets whose sole function is to provide comfort or emotional support do not qualify as service animals under the ADA and are not permitted inside park buildings.

For more information on bringing non-service animal pets to the park, please visit the pets section of the website.
Fort Sumter Tour Boats
A ramp system improves accessibility for those who visit Fort Sumter by tour boat from the Fort Sumter Visitor Center at Liberty Square, located in downtown Charleston. At this time, the ferry departing out of Patriots Point in Mount Pleasant is not accessible.
While this ramp system increases accessibility, there may be times when routine maintenance or unexpected repairs render the system unavailable.
Ramps used to access the ferry can vary based on tides and adverse conditions. Due to this, the ferry departing from downtown Charleston is not always fully accessible. To ensure that your visit will be fully accessible, we recommend that you contact the concessioner, Fort Sumter Tours, on the day of your visit at (843) 722-2628.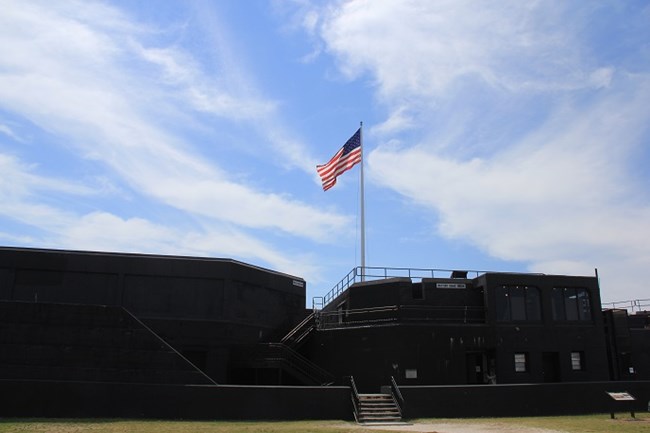 Inside Fort Sumter
The historic parade ground level of Fort Sumter is accessible. Several interpretive wayside exhibits are located throughout this level, and a park ranger is available to provide a history talk and answer questions.
Battery Huger houses the women's restroom, water fountain, museum, park store, and the observation level. The lowest level of Battery Huger, which houses the restrooms, is accessible by a power lift. To access the upper levels of Battery Huger, including the park store, the museum and the observation deck, there are elevators available on the right hand side.
A museum guide is available upon request, at Fort Sumter, featuring all of the museum text, images, quotes, and pictures of artifacts on display in the Fort Sumter museum and the upper level of Fort Sumter. An accessible restroom on the tour boat will remain open throughout the visit to Fort Sumter for visitors and a fully accessible museum store is available at Liberty Square. All Fort Sumter and Fort Moultrie National Historical Park museum stores are operated by America's National Parks.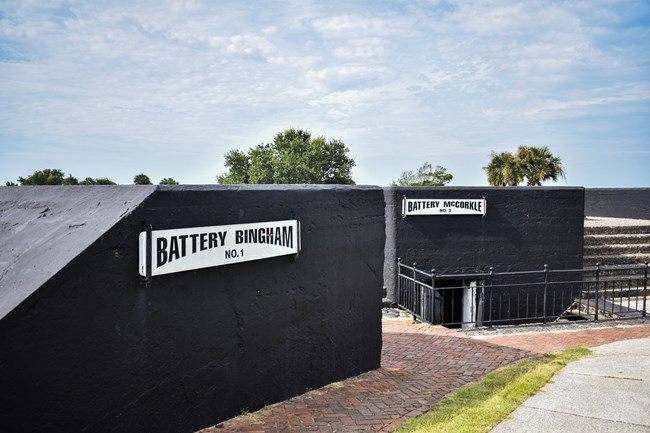 Fort Moultrie
The visitor center at Fort Moultrie is wheelchair accessible at both entrances with ramps and door openers. The majority of Fort Moultrie is also accessible with ramps throughout the fort. The HECP builiding in Fort Moultrie is not accessible.


Last updated: August 8, 2023