Date:
October 22, 2015
Contact:
Bill Martin
, (843) 883-3123 x211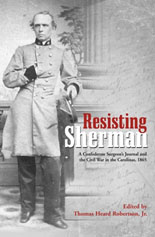 Author Tom Robertson will be speaking about his newly released book, Resisting Sherman: A Confederate Surgeon's Journal and the Civil War in the Carolinas, 1865 as the inaugural event of our author series at Fort Moultrie.
Mr. Robertson will speak at 1:00 PM on Saturday, October 31, 2015 in the Fort Moultrie Visitor Center (1214 Middle Street, Sullivan's Island, SC). He will be available to sign copies of his book immediately following the program until 4:00 PM. In addition to the book signing, National Park Service rangers and volunteers will offer musket firing demonstrations and interpretive programs at 10:00 AM, 11:00 AM, 2:30 PM, and 3:00 PM in Fort Moultrie. These programs will be the first of a series of firing demonstrations which will take place the fourth Saturday of each month.
Surprisingly little ink has been spilled on the Civil War's final months in the Carolinas. Resisting Sherman: A Confederate Surgeon's Journal and the Civil War in the Carolinas, 1865, by Francis Marion Robertson (edited by Thomas H. Robertson, Jr.) fills in many of the gaps and adds tremendously to our knowledge of this region and those troubled final days of the Confederacy.
About the Author: Tom Robertson is a civil engineer from Augusta, Georgia and is an active historic preservationist. Mr. Robertson is the author of several published papers, and is a popular speaker on a wide variety of engineering and historical subjects. Resisting Sherman is his first full-length book. Superintendent Tim Stone states "This inaugural book signing event featuring Mr. Robertson will kick off a quarterly author series which will focus on newly released books that cover the 171 year history of the protection and defense of Charleston Harbor."
Fort Moultrie is located at 1214 Middle Street, Sullivan's Island, South Carolina. The site is administered by the National Park Service as a unit of Fort Sumter National Monument. Fort Moultrie represents the entire history of static seacoast defense in the United States, from the American Revolution to the end of World War II. The site is open daily from 9:00-5:00 and includes a visitor center with museum exhibits and an orientation film. An entrance fee of $3 for adults and $1 for senior citizens is charged to tour the fort.
For more information on park news, events and programs you can follow us on Facebook at www.facebook.com/FtMoultrieNPS. You can also share your park experience with others by posting on social media with the hashtag #FindYourPark.