For Teachers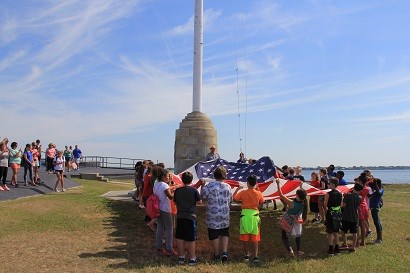 Parks as Classrooms
Fort Sumter and Fort Moultrie National Historical Park, which preserves significant cultural and historical resources, welcomes school groups to visit and take advantage of the many opportunities to learn about our nation's history.

Field trips, which enhance classroom learning and broaden students' experiences, are available throughout the school year. For more information about coordinating a field trip, please read below.

Fort Sumter and Fort Moultrie National Historical Park is comprised of two main sites: Fort Sumter in Charleston Harbor and Fort Moultrie on Sullivan's Island.

All student groups are required to have a minimum of one adult for every ten children. Students must stay with their designated adult at all times. Adults are responsible for their group's conduct.
Fort Sumter
Fort Sumter sits in the middle of Charleston Harbor and is only accessible by boat. Tickets for Fort Sumter are required and must be purchased through our authorized concessioner Fort Sumter Tours.
Fort Moultrie
Fort Moultrie is located on Sullivan's Island and is an ideal location for many field trips. Group reservations are limited to 2 buses and 110 people per day. An entrance fee is required for Fort Moultrie. To make a group reservation, please download the group reservation form and email a completed copy to FOSU_information@nps.gov.
Group Reservation Form

Some groups may be eligible for an academic fee waiver, see below for more information.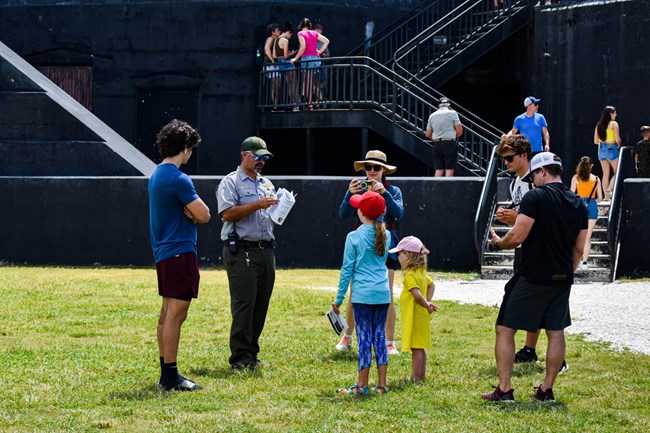 Academic Fee Waivers
Academic Fee Waivers are only available to qualifying institutions for educational trips to Fort Moultrie. They are not available for trips to Fort Sumter.
Applications for waivers must be received by the park at least 14 days in advance of the field trip.
Apply for an academic fee waiver by completing and submitting the Academic Fee Waiver Application form. Email application to fosu_commercial_services@nps.gov, or mail to:
Fort Sumter and Fort Moultrie National Historical Park Attn: Academic Fee Waiver Applications 1214 Middle Street, Sullivan's Island, SC 29482

Applications must show eligibility. To be eligible for an academic fee waiver, the following criteria must be met:
1. National or international applicants must prove they are a bona fide academic institution by submitting one of the following types of documentation:
· Documentation of educational or scientific tax exemption from the Internal Revenue Service (IRS) or the applicant's national, state, or local tax authority; or
· Documentation from a bona fide academic institution meeting one of these eligibility standards, confirming that the group is visiting for the purpose of providing transferable academic credit based on a curriculum; or
· Documentation of accreditation or recognition as an educational institution from a legitimate international, national, regional, state, or local authority for the applicant's location. Suggestion of affiliation with a state or a local school system is not the same as providing proof of accreditation, and therefore will not be accepted as proof.
2. Provide a written statement (documentation) verifying that the visit supports a specific curriculum for which academic credit is offered.
3. Provide a written statement identifying the park resources and facilities that will be used to support the educational purpose of the visit, and how they are relevant to that purpose.
Home Schools: Home schools may be granted fee waivers based on the course of study following the procedures above, as long as they meet your state's requirements for home schools. A copy of a home school verification record from your state department of education is required
Safety Information:
Do not climb on cannons, bricks and windowsills.
Leave all plants, rocks, shells and historic objects within park boundaries.
Do not run, watch your step. Most surfaces within the forts are uneven.
Do not cross safety barriers and chains.
Smoking is not permitted within park boundaries.
Please be respectful of other visitors and refrain from yelling and other boisterous behavior. All students should remain with their adult chaperones at all times.

In an emergency, call 911 and contact a ranger. First aid and AEDs are located at both Fort Sumter and Fort Moultrie.


Last updated: August 25, 2022