Things To Do
There are many exhibits, features, and other noteworthy items/places available to view and experience at the Fort Smith National Historic Site, but depending on your schedule and interest, you may only have time for a brief visit. Based on experience from both current and past visitors as well as front desk employees and Rangers, this guide could help you see everything you want to see in the time you have available.
If you have less than one hour:

If you have one to three hours:
Attend a Ranger-led program.
Take a walking tour using Audio Wands of both the building and the grounds. [Available for free at the Front Desk]
Walk the grounds and read our Wayside Information Panels.
Take a short walk up to Belle Point and visit the first Fort Smith site.
Walk along the Arkansas River and view the Trail of Tears overlook.
Enjoy a picnic under one of the many shade trees or on one of our picnic tables located next to the main parking lot.
Kids can earn their Junior Ranger badges by completing activities in our fun and educational workbooks.
Visit the Commissary Storehouse, Fort Smith's oldest building.
Watch the beautiful sunsets on Belle Point overlooking the confluence of the Arkansas and Poteau Rivers.
Watch It Took Brave Men U.S. Deputy Marshal Video.
See what is growing in the Historic Officer's Garden.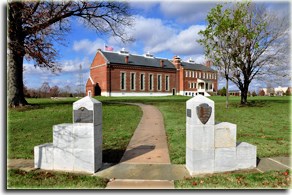 The main entrance to the Visitor Center is located on the south end of the Barracks/ Jail/ Courthouse building. Exhibits in the visitor center focus on Fort Smith's military history from 1817 – 1871, western expansion, Judge Isaac C. Parker and the federal court's impact on Indian Territory, U.S. Deputy Marshals and outlaws, Federal Indian policy, and Indian Removal including the Trail of Tears. Located on the grounds are the foundation remains of the first Fort Smith (1817-1824), the Commissary building (c. 1838) and a reconstruction of the gallows used by the federal court. A walking trail along the Arkansas River includes wayside exhibits on the Trail of Tears.
Use the links on this page to help you plan your visit to Fort Smith National Historic Site. You can check the calendar of events to see if the park has special programs or activities scheduled on the day of your visit. If you are bringing children, you can learn about our Junior Ranger program in the For Kids section.
There are other historical places of interest near Fort Smith National Historic Site. Nearby Attractions provides links to those sites.


Last updated: February 1, 2016