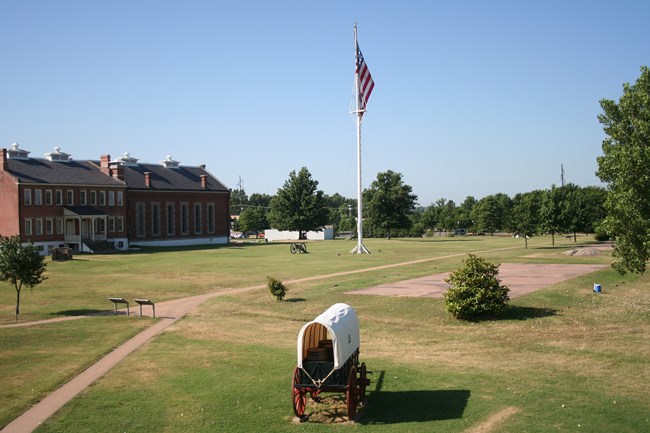 The Parade Ground
N 35° 23.314'
W 94° 25.808'
See our Webcam of this view.
For more than thirty years during the mid-1800's, soldiers drilled on the large parade ground before you. Flanked by the officers' quarters to the right and the enlisted men's barracks on the left, the parade ground was the center of life at the fort. The wagon is an 1850 Army freight wagon (which is stored indoors during the winter months.) The cannon under the flag is a six-pound 1841 bronze reproduction.
The Flag
The flagpole is 99' high and is a reproduction of the original installed by the Army. During the summer, we fly a 20'x35' 37-Star Garrison Flag. During the winter, we fly a 19'x35' 37-Star storm flag. The U.S. Army built the original flagstaff at the second Fort Smith in 1846. As with many western military posts, the flagstaff stood tall so that its flag could be seen for miles. To attain a height of nearly 100 feet, the flagstaff builders joined two poles in the same way that ship masts were built. Shroud lines attached to crosstrees supported the area where the poles were joined, while guidelines and an underground wooden structure stabilized the base. The "Old Fort Militia," a local citizen's support group, in cooperation with the National Park Service rebuilt the flagstaff in 1984-85. Its replica 37-star, is a copy of the final flag known to have been flown by the army here from 1867-71.
Surrounding the Parade Grounds to the north is the Commissary, to the east is the Barracks/Courthouse/Jail building, to the south is the Gallows, and to the west are the Officers' Quarters and Garden.