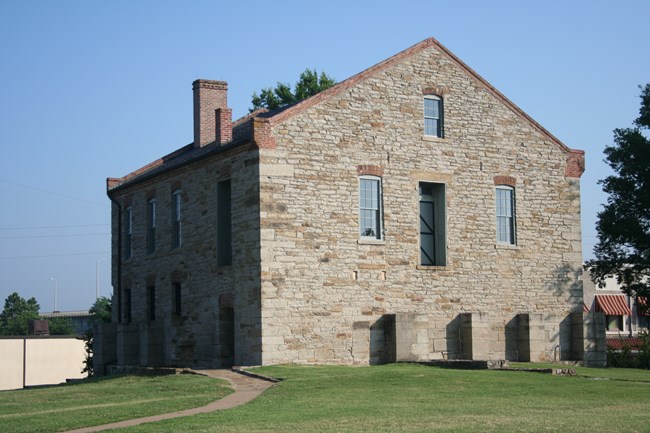 Commissary
N 35° 23.366'
W 94° 25.789'
The commissary is the oldest building still standing in Fort Smith. Over the years its appearance and use changed dramatically. The building held supplies used by explorers and soldiers, played a crucial role in two wars, and the second floor served as an office for Federal Judge Isaac C. Parker. Today, the commissary is furnished with reproductions of supplies that the U.S. Army stored there in the 1850's. A number of posts located farther west benefited from these rations.
In 1845 Quartermaster General Thomas Jesup inspected Fort Smith and ordered the wall bastion be converted into a commissary depot. General Jesup's intervention led to Fort Smith's continued growth by shifting the mission of the post from defense to supply. With supply as its primary mission, Fort Smith became one of the largest and busiest supply posts in the south.
Inside the Commissary
The commissary building has served many uses since its construction in the 1830's. Each successive owner modified the building to meet the demands of changing times. At the end of the 1800's, after the federal court no longer needed it, the commissary was sold to a private owner. During this time, the massive stone walls of the second fort were dismantled and sold to local citizens.
In 1910 a ladies' group acted to save the commissary as a place to preserve the community's heritage. The Old Commissary Museum (later known as the Old Fort Museum) occupied the bu8ilding for nearly seventy years, longer than either the army or the federal court. In the 1980's, the National Park Service continued the work begun by the museum in the restoration of the commissary. Through its early restoration, the commissary served as the seed of historic preservation for Fort Smith.