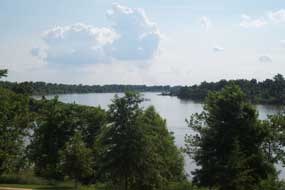 From its western border along the Poteau and Arkansas Rivers up to Belle Point and over to the site of the Second Fort and Courthouse, the approximatly 40 acres comprising Fort Smith National Historic Site provides visitors with a wonderful opportunity to enjoy the natural environment of the Arkansas River Valley without leaving downtown Fort Smith.
Situated in an ecotone, a crossroads of ecosystems, in the Arkansas River Valley region of Western Arkansas, the Fort Smith National Historic Site contains a diverse landscape of upland and bottomland hardwood forests interspersed with Loblolly Pine and an abundance of manicured lawns. Located at the confluence of the Arkansas and Poteau Rivers between the Ozark Plateau to the north, and the Ouachita Mountains to the south, this urban park has a variety of tree species native to the trans-Ozark/Ouachita/Arkansas River Valley regions.
Due to the Park's proximity to the Rivers and its considerable amount of river-frontage, there is additional complexity in the local ecosystems. This allows for greater wildlife diversity such as beavers, Great Blue Herons, and seasonal sightings of American White Pelicans and Bald Eagles.
Although the Arkansas River is a major component to the park's natural environment, it has been altered drastically from its native state. In 1970 the McClellan-Kerr Arkansas Navigation System was completed, providing a navigatable waterway from the Mississippi River to Eastern Oklahoma.

At times the Arkansas River floods and on rare occasions part of the park's river trail is inaccessible.