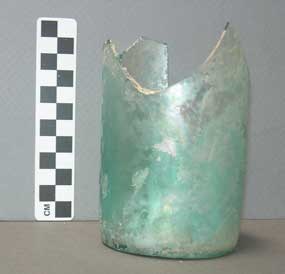 Wine or Spirits Bottle
pre-1838
This aqua hand-blown glass bottle was found in the 1960s at Belle Point, site of the first Fort Smith (1817-1824). On the base is a pontil mark or indentation left by a pontil rod used during the bottle finishing process. An assistant would hold a long iron rod attached to the base of the hot bottle while the glass-blower shaped the neck of the bottle. Pontil marks are found on American made utilitarian bottles up until the mid-1860s.

The base of this bottle has a prominent pontil mark with a surrounding starburst design. The edges of the base have an orange peel surface. The variation in the thickness of the bottle and the seedlike bubbles are further evidence of hand manufacture.