Photograph of Emmett Dalton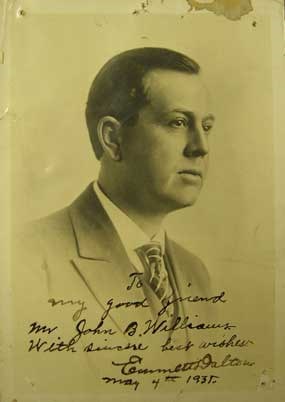 Photograph of Emmett Dalton
dated 1935

This photograph is from the collection of John B. Williams and it is inscribed to him. The inscriptions reads:

To
my good friend
Mr. John B. Williams.
With sincere best wishes
Emmett Dalton
May 4th 1935.

John B. Williams was a prominent local businessman who owned a wagon yard on Texas Corner in downtown Fort Smith.

Emmett Dalton was best known as a member of the infamous Dalton Gang. However, he worked briefly for the federal court at Fort Smith, serving on a posse twice in June of 1890. His brother, Grat, also served the federal court as a law officer. By the fall of 1890 Emmett and Grat joined their brother Bob in a life of crime. In a telegram sent by Marshal Jacob Yoes in December, 1892 to the Attorney General in Washington, he confirmed that Emmett and Grat had briefly served the court.

Transcript of Telegram:
Fort Smith, ARK Dec 29, 1892
To: Attorney General Wash DC
The Daltons were officers under my predecessor – I retained Grat Dalton until May ninety Robert & Emmett Dalton acted as posse twice in June of ninety assisting in arresting three noted desperados. They were all considered trustworthy men until the fall of ninety when their first unlawful acts began none of the gang were employed by me after that time in any compacity. Bill Lipsey has never been in my employ & I don't know him.
Jacob Yoes Marshal

Emmett Dalton was the only survivor of the Coffeyville Raid. The Dalton brothers, Bill Powers, and Texas Jack Broadwell attempted to rob two banks simultaneously in Coffeyville, Kansas. Local citizens responded immediately, arming themselves with weapons from the Isham Hardware Store and taking up different positions. They fired into the banks and into the alley as some of the outlaws emerged. At the end of the gun battle, four citizens as well as four outlaws were killed. Emmett who was seriously wounded, later stood trial for the crimes. He was sentenced to life in the Kansas State Prison but pardoned by the governor in 1907. Later Emmett moved to California where he eventually became an author and actor. He wrote two books: Beyond the Law and When the Daltons Rode. He played himself in the 1918 movie of Beyond the Law. He died in California in 1937.
Last updated: September 5, 2021