National Park Service (1961-present)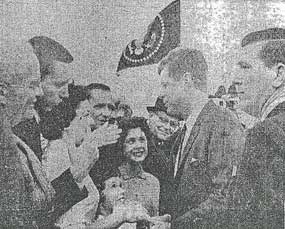 Fort Smith was designated as a unit of the National Park Service on September 13, 1961 by President Kennedy. The next month, JFK passed through Fort Smith and while at the airport received the property deed from Fort Smith's Mayor Bob Brooksher. Upon receiving the deed, President Kennedy said, "I don't know exactly what part of Fort Smith this entitles me to, but I'm sure it's a good part."
A group of local citizens had worked many years to have Belle Point, the site of the first Fort Smith, and the federal courtroom of Judge Parker recognized as a National Historic Site. In the 1950s Public Historical Restoration, Inc. had restored the courtroom, rebuilt the gallows and conducted archeological excavations at Belle Point.
In 1963 a ceremony was held at Judge Parker's historic courtroom, transferring it from Public Historical Restorations, Inc. to the National Park Service. The next year, the Fort Smith National Historic Site was officially dedicated by Lady Bird Johnson.
Last updated: April 10, 2015