Letter Regarding Cherokee Bill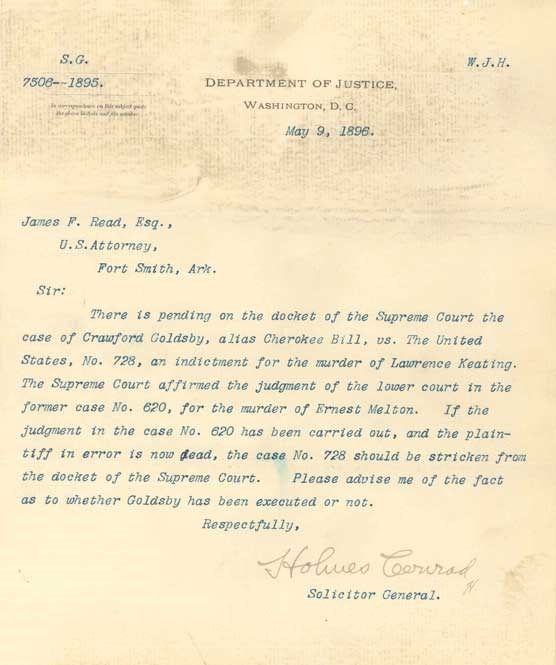 Letter regarding the execution of Crawford Goldsby alias Cherokee Bill
May 9, 1896
Crawford Goldsby, alias Cherokee Bill, was tried in the federal court at Fort Smith in 1895 for the murder of Ernest Melton. He was found guilty and sentenced to be executed. He appealed to the Supreme Court. In July of 1895, while awaiting their decision regarding his case, he attempted to escape from the jail at Fort Smith. During his unsuccessful escape attempt, he shot and killed Guard Lawrence Keating. Once again, Crawford Goldsby was placed on trial in Judge Parker's court for murder and once again, the jury convicted him and he was sentenced to be executed. Just as he had done after his first murder conviction, he appealed to the Supreme Court.
In December of 1895 the Supreme Court upheld the verdict in his first murder conviction. Judge Parker set the date of March 17, 1896 for the execution of Crawford Goldsby. He was executed on this day.
Crawford Goldsby's second appeal to the Supreme Court was still pending, even though he had already been executed. In May of 1896 the Solicitor General for the Department of Justice wrote a letter to James F. Read, U.S. Attorney at Fort Smith, inquiring if the judgment in the case of Goldsby's first murder conviction had been carried out and if he was dead.
To read more about Crawford Goldsby, click here.
Last updated: April 10, 2015