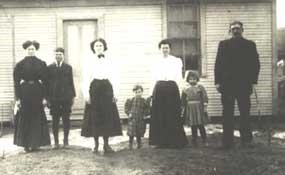 The unprovoked murder of Ellis McVay was one of the more brutal and vicious ones to come across the docket during Judge Parker's time in Fort Smith.

McVay was a farmer who lived with his wife and two children on the boundary of the Creek and Choctaw Nations in Indian Territory. A hired hand named William Barnett also lived with the family. On the night of December 3, 1880, Amos Manley and his brother Abler were passing through the area on their way to the Choctaw Nation to look for work. It was an extremely cold night and upon coming across McVay's cabin, the pair decided to stop for some warmth. Not wanting to wander back into the cold, the Manleys asked McVay if they could stay in the cabin overnight, saying that they would be on their way the next morning. McVay consented and the Manleys bedded down on a pallet in the main room with the hired hand Barnett asleep in the corner across from them.

For reasons unknown, the Manleys awoke at three that morning, reached for their guns and crept toward the sleeping McVay. Amos fired his weapon first, striking the farmer in the head, and Abler finished him off with two shots to the abdomen. Barnett, roused by the shots, grabbed his gun. In the struggle that followed, one of the Manleys retrieved an axe from beside the fireplace and chopped off Barnett's left hand. He also suffered a severe gash to the neck. Meanwhile Mrs. McVay slipped out the back door and fled barefoot with her children. While Barnett lay bleeding from his wounds, he was struck several more blows on the back and legs. The killers eventually left Barnett for dead and made their escape, but they were caught the next day and taken to Fort Smith for trial. Convicted of murder, the Manleys hanged on September 9, 1881.

In 1982, the National Historic Site received a letter from Mr. Barnett's grandson. He wrote to say that several published books about Judge Parker's court stated that his grandfather's right hand was chopped off by the Manley brothers. The grandson was kind enough to enclose several photographs showing the absence of the left, not right, hand.
* To view a larger image of this photograph, click here.
Juliet Galonska
March 1996
This sketch is part of a series, "Fort Smith Minutes," originally developed by the park staff to provide one minute long public service announcements for local radio stations. These sketches provide a light and entertaining glimpse into the complex history of Fort Smith.