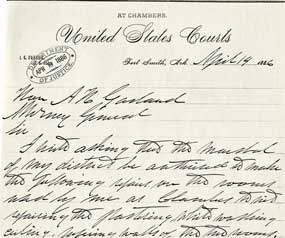 Judge Parker's chambers were in the former commissary building, less than 100 yards from the courthouse. On April 14, 1886 Parker wrote the Attorney General requesting that needed repairs be made to the chambers. The new building that he refers to is the federal courthouse that was completed in 1890.

Parker wrote the Attorney General again, later that same month, saying that the approved funds for the improvements did not cover all that he requested.

View a copy of the April 14, 1886 letter
View a copy of the April 26, 1886 letter
Below are transcripts of the two letters. Page formatting has been retained.
Fort Smith, Ark. April 14 1886
Hon A H Garland
Attorney General
Sir
I write asking that the Marshal
of my district be authorized to make
the following repairs on the rooms
used by me as Chamber to wit
repairing the plastering, white washing
ceiling, painting walls of the two rooms,
furnishing 6 window shades, painting
one [ ] 6 windows, three doors two
double doors mantle board and base
of two rooms. This all to cost not
exceeding $50.00. One carpet for our room
to cost not exceeding $50.00 and
one desk to cost not exceeding $50.00
Total $150.00. My chambers are in an
(2nd page)
Stone government building and
one of the rooms is in very bad
condition. So bad it cannot
be occupied. The carpet on the floors
is one which has been in use for
eleven years. I had hoped to get on
with these rooms until we could
have a new building but that time
is probably three years in the future
and some repairs will have to be
made or chambers will have to be
rented. But I think it much cheaper
to make these repairs. You will
remember the government pays no
rent here. Hoping that an order for these
repairs will be at once made.
I remain truly yours & c
I c Parker Judge


Fort Smith, Ark. April 26, 1886
Hon. A H Garland
Attorney General
Sir
The letter of acting Attorney
General _____ _____ by instructs
N.N. file no 2657-1886 only gives
permission to marshal to make
certain improvements in my Chamber,
while in my letter to you I asked
for permission to the marshal to buy
one desk not to cost exceeding
$50.00 and carpet for same room
not to cost exceeding $50.00. The
desk, carpet, and improvements not
to cost exceeding $150.00. Please give
him authority to buy desk and
carpet out of that amount you
(2nd page)
have named in your letter for
improvements. I think express
authority to him but before he
makes the purchases to ____ all
trouble in his account.
Truly yours
I c Parker
Judge