Ceramic Ink Bottle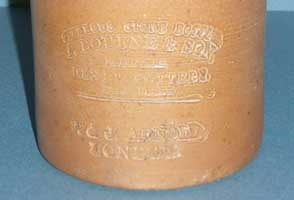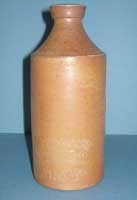 Ceramic Ink Bottle
Excavated near foundation of courthouse at 75" below surface on 4/21/97.
FOSM ACC# 236
This stoneware, made near Derby in England, has a smooth, highly vitrified fabric, which is gray in color. The interior of the ware is light brown to buff colored. The fine brown exterior color and surface appearance is a reaction of the clay and the salt glazing during the firing process.
The date range for this stoneware is 1800-1875+
Manufacturing information was impressed into the wet clay.
Vitreous Stone Bottle
J. Bourne & Son,
Patentees
Derby Pottery,
Near Derby
__________________
P.& J. Arnold
London
Click here to view a larger image of the manufacturing information.
Click here to return to Artifacts of the Park.
Last updated: April 10, 2015