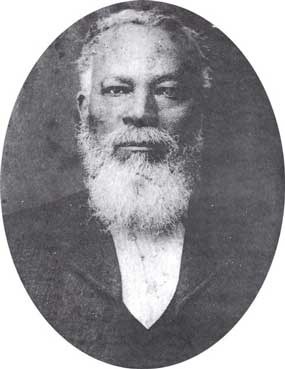 For a federal judge, a bailiff keeps order in the courtroom. In Judge Parker's days, a former slave held this trusted position in Fort Smith.

George Winston was born into slavery on February 5, 1846 in Georgia. After being freed by a detachment of federal troops, he worked as a waiter in Atlanta and in 1867, enlisted in the Army. Like many freedmen, Winston learned to read and write while in the service.

Following an honorable discharge on May 15, 1870, Winston traveled to Fort Smith to receive the balance of his military pay. Deciding to stay, he worked at different odd jobs in town. On March 3, 1871, U.S. Marshal Logan Roots secured Winston's services as a security guard to protect the inventory of a bankrupt dry goods store until it could be sold.

Due to his "diligence and close attention to details," he was later hired as a bailiff for Judge Henry Caldwell and reappointed by his successor, William Story. Winston, the second African-American appointed as bailiff for the Western District Court, was responsible for regularly attending court sessions, maintaining order in court, escorting juries and assisting the presiding judge. For his work, he was paid six dollars each day.

Story's years as a judge were marked by bribery, corruption and political infighting. Although accused of performing personal chores for the marshal while receiving government pay, Winston remained as the trusted court bailiff. When Judge Parker arrived in 1875, Winston became his private bailiff under the strong recommendation of the court officers.

Following the 1892 election of Democrat Grover Cleveland to the presidency, political and racial pressures increased in the district. Additionally, Parker was persuaded to replace Winston, a Republican, with a Democratic appointee. The judge relieved his long-time bailiff of his duties in May of 1893.

Upon leaving the court, Winston operated a successful real estate business until 1918. The following year, at the age of 78, George Winston passed away due to injuries suffered in an automobile accident. He remains a representative of the hard working, diverse nature of the individuals associated with the Western District Court in the late nineteenth century.
Juliet Galonska
March 1996
This sketch is part of a series, "Fort Smith Minutes," originally developed by the park staff to provide one minute long public service announcements for local radio stations. These sketches provide a light and entertaining glimpse into the complex history of Fort Smith.