Gallows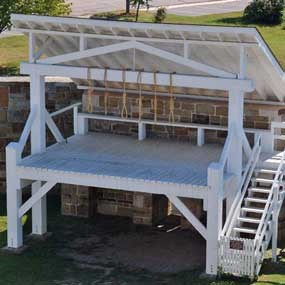 The gallows at Fort Smith served as an instrument of federal justice for twenty-three years, from 1873-1896. During those years 86 men were executed for capital offenses on the gallows.
While the gallows that stands today is a reconstruction, visitors are still drawn to the place where these executions were conducted. Perhaps no other place in Fort Smith illicits such interest and strong feelings.
To learn more about the history of the gallows as well as the myths and legends that have surrounded them, click on the links below.
Last updated: September 25, 2017