Deputy Marshals and Other Federal Court Employees
Federal Court for the Western District of Arkansas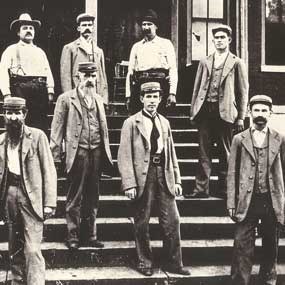 The Federal Court for the Western District of Arkansas employed over a thousand men, and a few women, between the years 1872-1896. While the majority of the men were sworn in as Deputy U.S. Marshals, others served as jailers, court clerks, bailiffs, guards, posse, jail physicians, US Commissioners, and U.S. Marshals.
Federal Court For the Western District of Arkansas Employees from 1851-1896
The table below is a list of federal court employess. It can be sorted by names and position.
The employees of the Federal Court for the Western District of Arkansas enforced United States law over the Indian Territory from 1851 to 1896. Using several resources for documentation, the Fort Smith National Historic began compiling a list of these employees in the 1970s. This federal court employee list is the continuation of that project.
Not all records from this time period still survive. The park relies heavily on documentation preserved at the National Archives in Fort Worth, Texas. They maintain the majority of court records for the Western District of Arkansas in the 19th century. Some records have been lost. One notable example is the absence of oath of offices for deputy marshals whose last name begins with "A."
Newspapers are another source of information concerning court activity. Court news was regularly covered by the local newspapers and often included detailed accounts of particular crimes and trials as well as a listing of prisoners brought to the jail and the deputy marshals who made the arrests.
Over the years historians have written different accounts of the court and its employees. Spellings of names can vary according to the source. Alternate spellings if known are shown.
Since this list is an on-going project, it will be updated as more documentation is found. If you have information to share with the park regarding a court employee, please do so here. Also, if you note any problems, we would appreciate having those brought to our attention.
We may have additional documentation for a specific employee if you would like to learn more about a specific employee please contact the park.

Visit our Flickr page to see U.S. Marshals: Oaths of Office
| Last Name | First Name | Middle Initial | Alias | Position |
| --- | --- | --- | --- | --- |
Last updated: October 5, 2021