Courthouse/Jail Building c. 1890s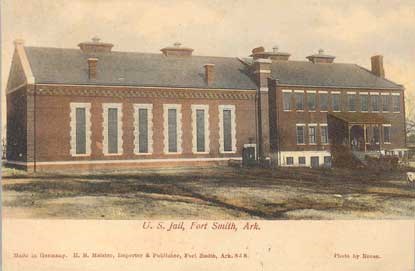 Seen from the east side, this view of the jail wing and former barracks/courthouse building dates from the 1890s. By 1890, the top floor was added to the old courthouse and the full porches were removed. The new courthouse on Sixth Street was located a few blocks away from the federal jail, so prisoners had to be taken by wagon to the courtroom. In the right-hand corner of this postcard is the jail wagon. To the right of the wagon is the rear end of a cow.
To view additional postcards of the federal court buildings, click on the small images on the right hand side.
To return to the main Postcards of the Federal Court Era Buildings page, click here.
Last updated: April 10, 2015