Commissary Postcards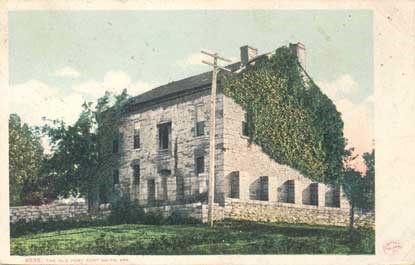 To view a larger image of this postcard in a new window, click here.
In this undated early 20th century image of the Commissary seen from the northwest, the fort wall is visible on the left side of the building. On the right side is evidence that the Commissary was built on the foundations of a bastion.
When construction on the second Fort Smith began in 1838, it was originally designed to have five bastions. It soon became apparent that there was not a need for such a strong defensive fort so the bastion on the northwest corner was converted into a storehouse, the Commissary.
Food supplies were stored there and later transported to troops stationed further west. Transcontinental railroad survey parties, '49ers heading for California's goldfields, and soldiers fighting in the U.S.-Mexican War also drew rations from the building. The Commissary was later modifed for use as a barracks and hospital, then converted into a residence for court officials and Judge Parker's chambers. During much of the 20th century it served as the city's Museum of History.
The Commissary is now the oldest standing building in Fort Smith. Today the building has been restored to reflect its use during the military period as a supply warehouse.
To view additional postcards of the Commissary, click on the small icons on the right hand side.
Last updated: June 18, 2016