Symbols of Sacrifice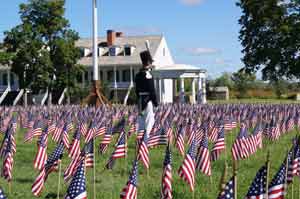 35th Infantry Division (National Guard) Band's Brass Quintet Concert Highlights Symbols of Sacrifice Remembrance


Fort Scott National Historic Site (FSNHS) is pleased to present Symbols of Sacrifice from September 9-15, 2016, honoring the sacrifice of Americans throughout our nation's history. The main focus of the event will be a Field of Honor on the historic FSNHS Parade Ground, where a US flag will fly for each service member who has died while serving in theater supporting US military operations during the Global War on Terrorism. The purpose is to remember the fallen, their sacrifice and their humanity, not to glorify war.
Symbols of Sacrifice begins on Friday, September 9, when school children and concerned citizens will place the flags on the Parade Ground. The public is invited to participate but will need first to register and receive instructions at the Visitor Center upon arrival at the site. FSNHS is pleased to partner with Ralph Carlson and the Fort Scott Area Chamber of Commerce &Tourism Center in hosting the community's free Friday Night Downtown Concert on September 9. Join us outside the Visitor Center, where the concert begins at 7:00 p.m. with an artillery volley and garrison flag lowering to honor the fallen. While benches will be available, please bring your own folding chairs for more comfort.
Beginning at 7:00 a.m. on Saturday, September 10, volunteer community members will read the names of the nearly 7,000 honored fallen from the Global War on Terrorism over the downtown Fort Scott public address system. As you hear the names of those sons and daughters, husbands and wives, fathers and mothers, brothers and sisters, cousins and friends, please take a moment to thank them and the unnamed millions of other members of the US Armed Forces who have answered the call to defend our freedom throughout the generations.
Then, on Saturday evening, September 10, we are pleased to welcome the US Army National Guard's 35th Infantry Division Band's Brass Quintet. These citizen-soldiers from Kansas and Missouri will perform a free concert on the FSNHS grounds. The evening's activities begin at 6:00 p.m. with Mrs. Jennifer Jackman, past president of the American Gold Star Mothers, offering remarks on the fine work performed by that organization in supporting the families of the fallen, those still serving, and all of America's military veterans. Again, while the site will provide bench seating, we invite the public to bring personal folding chairs for a more enjoyable evening.
The Field of Honor will remain open during daylight hours from Friday, September 9, through noon on Thursday, September 15.
Fort Scott National Historic Site is a unit of the National Park Service. The park buildings are open from 8:00 a.m. to 5:00 p.m., while the grounds are open from dawn to dusk. There is no admission charge.