Symbols of Sacrifice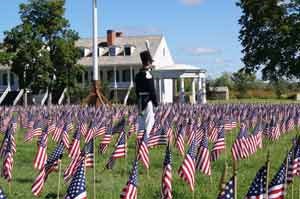 Fort Scott National Historic Site is pleased to present Symbols of Sacrifice Memorial Day weekend, Friday through Monday, honoring the sacrifice of Americans throughout our nation's history. The main focus of the event will be a Field of Honor on the historic Fort Parade Ground, where US flags fly for service members who have made the ultimate sacrifice to keep this county free. The purpose is to remember the fallen, their sacrifice, and their humanity, not to glorify war.
The Field of Honor will remain open during daylight hours Memorial Day Weekend from Friday through Monday.
Fort Scott National Historic Site is a unit of the National Park Service. Summer hours are now in effect. The park buildings are open from 8:00 a.m. to 5:00 p.m., while the park grounds, walkways and parking lot are open from ½ hour before sunrise until ½ hour after sunset. There is no admission fee.
For additional event information about events, please go to our calendar page.
Last updated: May 5, 2023