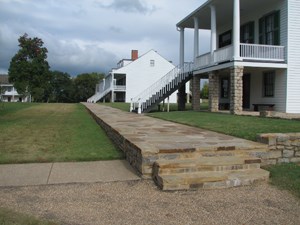 The main parking lot at the south entrance of the historic site includes designated parking near the Visitor Center for guests with disabilities. Upon arrival, the rest of the journey is either by foot or, if necessary, by wheelchair. Two wheelchairs are available for checkout at the Visitor Center.
Several types of paved surfaces provide access to the buildings at the site. Brick walkways lead up to the Visitor Center. From there, concrete aggregate sidewalks lead around and through the parade ground. Visitors will also encounter stone surfaces that make up the walkway along Officer's Row as well as various front porches, and asphalt walkways that lead to the buildings behind Officer's Row.
Visitors shoud be aware that the brick walkways and the stone porches can be uneven and rough to negotiate; assistance may be required. Those who use wheelchairs should be aware that the stone walkway along Officers' Row is only accessible using the concrete walkway in the middle of the parade ground, as there are stairs on either end.