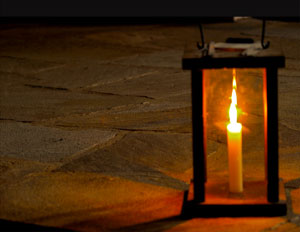 "–"the world will little note, nor long remember what we say here, but can never forget what they did here. It is for us, the living,rather to be dedicated to the great task remaining before us—that from these honored dead we take increased devotion to that cause for which they here gave the last full measure of devotion"
(Abraham Lincoln, Gettysburg Address)
On December 5 and 6, 2014, Fort Scott National Historic Site will host its 33rd Annual Candlelight Tour. As part of the site's commemoration of the Civil War Sesquicentennial, this year's tour will feature scenes from 1864 and will focus on the theme of devotion.
By late 1864, the Civil War was in its last throes. The tide was slowly turning in favor of the Union. It was no longer a matter of if the Union would win but when. Although weary of war, soldiers on both sides continued to fight with all the devotion and might that they could muster. Some of those soldiers on the Confederate side belonged to the army commanded by General Sterling Price.
In September 1864, Price's army launched one last campaign to bring Missouri into the Confederacy and hoped that the action would sabotage President Lincoln's reelection bid. Soldiers and civilians at Fort Scott watched Price's movements with great concern, because one of the goals of his campaign was to capture its' vast store of military supplies. By late October, his army directly threatened Fort Scott. The scenes on this year's candlelight tour will center on Fort Scott's reaction to Price's raid and the determination of its' citizens to keep their homes and their families safe.
During the candlelight tour, over 700 candle lanterns illuminate the site and over 100 reenactors bring the fort to life. This year's tours will be offered December 5 and 6, 2014. Tours on December 5will begin at 6:30 p.m. and go every 15 minutes until 9:00 p.m. On Saturday, December 6, the tours will run from 5:00 p.m. to 8:45 p.m.
Ticket sales begin on November 1. Reservations are required and advanced purchase is recommended to get your choice of tour times. Visitors may pick up tickets at the site's visitor center or reserve them by calling (620) 223-0310.Payments can be made via cash, check or charge (DISCOVER, MasterCard, Visa).Tickets are $8.00 for adults; children five and under are free. Tickets are non refundable. Western National Parks Association, which operates the site's bookstore, sponsors the tour. Proceeds generated cover the cost of conducting the tour.
From November 1-March 31, Fort Scott National Historic Site, a unit of the National Park Service, will be open for its winter hours of operation from 8:30 a.m.-4:30 p.m. daily. For more information about the candlelight tour or other events at the site, call 620-223-0310
Candlelight Tour Ticket Policy