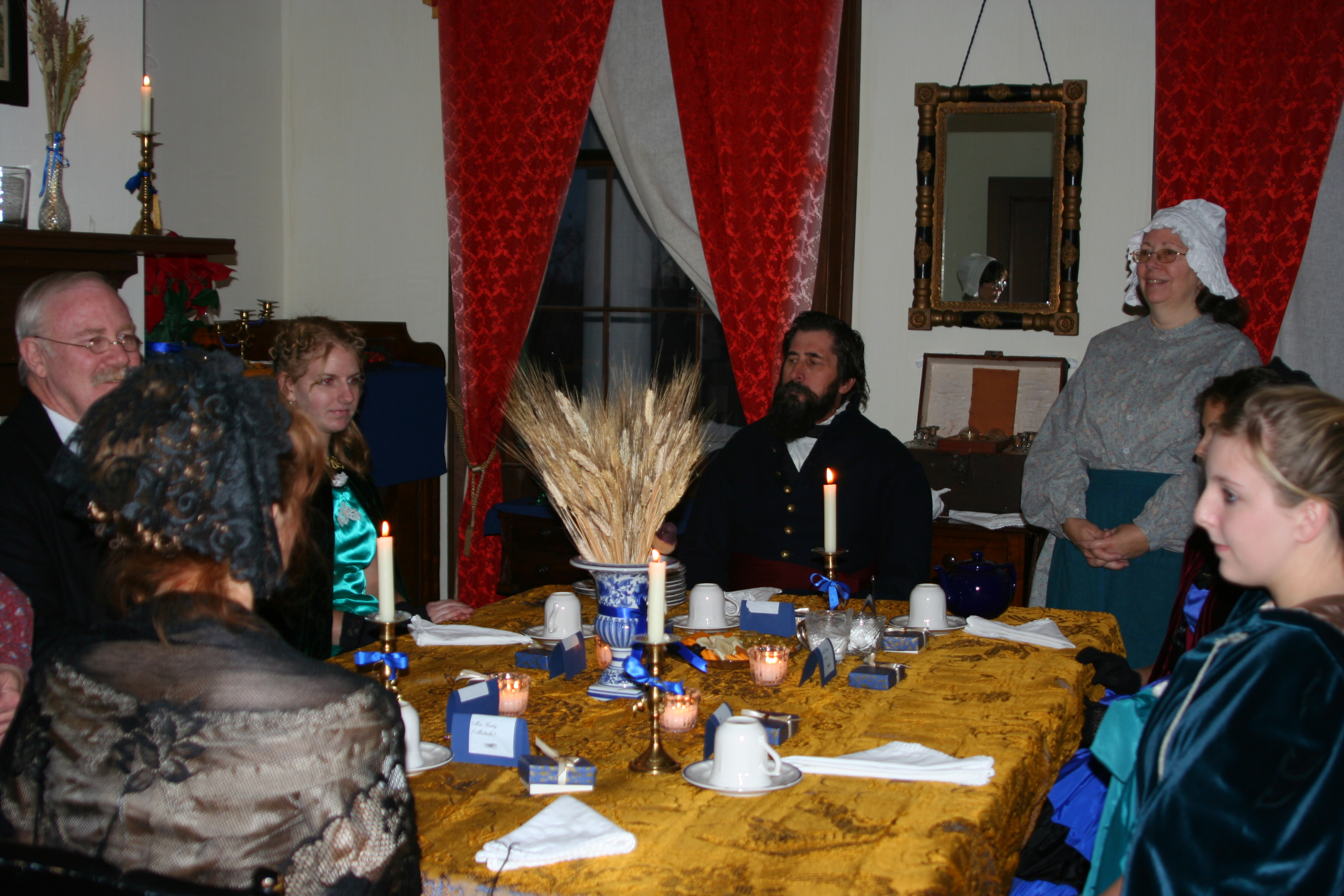 "Remember no matter what challenges a person may face, there is reason in each life for celebration. Find that reason and celebrate it." Anonymous
On December 2 and 3, 2016, Fort Scott National Historic Site will host its 35h Annual Candlelight Tour. Throughout 2016, Fort Scott NHS has been commemorating the 100th Birthday of the National Park Service with a series of events and programs. The concluding event of this commemoration will be the Candlelight Tour, which will focus on a theme of celebration.
The history of Fort Scott is one of conflict. Conflicts of Indian Removal, Westward Expansion, the Mexican-American War, Bleeding Kansas and the Civil War all impacted the soldiers and citizens that lived here. Yet despite these tensions, people of Fort Scott found reason to celebrate. They celebrated family, friends, weddings, births, success, and milestones.
Two of the scenes will show the growth of Fort Scott as evidenced by successful business ventures. Scene one will discuss the impact of the first cattle drive at Fort Scott, 150 years ago-one year after the end of the Civil War. In the fourth scene of the tour set in 1858, town leaders will be celebrating the recent growth of the town and the establishment of two hotels, a newspaper, and a railroad, despite the troubles of Bleeding Kansas.
Scene two will focus on the soldiers coming home from the Mexican-American War in 1848 and rejoicing in their safe return. Citizens of Fort Scott will be celebrating Kansas statehood in scene three. The final scene of this year's tour is specifically geared toward the NPS Centennial. It will be a reunion of the 6th Kansas Cavalry in 1916, which is the year the National Park Service was organized. Veterans of the 6th Kansas, a Fort Scott based Civil War unit, will be sharing wartime remembrances in this final scene of the tour. At the conclusion of the tour, visitors are invited to the Grand Hall for refreshments and period entertainment.
During the candlelight tour, over 700 candle lanterns illuminate the site and over 100 reenactors bring the fort to life. This year's tours will be offered December 2 and 3, 2016. Tours on December 2 will begin at 6:30 p.m. and go every 15 minutes until 9:00 p.m. On Saturday, December 3, the tours will run from 5:00 p.m. to 8:45 p.m.
Ticket sales begin on November 1. Reservations are required and advanced purchase is recommended to get your choice of tour times. Visitors may pick up tickets at the site's visitor center or reserve them by calling 620-223-0310. Payments can be made via cash, check or charge (DISCOVER, MasterCard, Visa). Tickets are $8.00 for adults; children five and under are free. Tickets are nonrefundable. Western National Parks Association, which operates the site's bookstore, sponsors the tour. Proceeds generated cover the cost of conducting the tour.