Natural Features & Ecosystems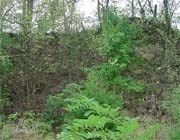 The site on the Marmaton River
"is understood to combine great advantages"
This was the report of General Zachary Taylor in recommending this site as the area to locate the new frontier fort.
Those great advantages include a limestone bluff overlooking the confluence of the Marmaton River and Mill Creek. The bluff rises abruptly on three sides and opens up gently to prairie on the south. Geologically, the bluff is composed of (in descending order): 3 to 5 feet of topsoil, 10 to12 feet of limestone, 5 to 7 feet of shale and then an additional 20 feet of limestone. Other natural features include nearby streams, ground water, deciduous trees and prairie grass.
These combined features influenced life at Fort Scott in several ways. It was defensible; from the bluff, soldiers had a commanding view of the surrounding countryside, which was one reason why there was no wall around Fort Scott. Its higher elevation protected the fort from flooding and reduced the incidences of diseases found in swampy areas that plagued other frontier communities. The nearby streams powered a sawmill and provided water for the horses, although the soldiers' drinking water came from a well that was 65 feet deep, of which all but the top five feet had to be blasted through rock. Trees and limestone supplied building materials. Its vegetation and climate created an ecosystem favorable for hunting, a prospect that thrilled the officers at Fort Scott.
Today, while the natural features still exist, the view has changed dramatically. Modern buildings, highways, and railroads have replaced the scene once described as "the most magnificent prairie in the country". One can walk to the edge of the bluff along the north face and still see undeveloped land along the flood plain of the Marmaton, but utility poles, fences and a greater number of trees than originally existed intrude on the historic landscape. The five acres of restored tallgrass prairie serve as a visual reminder of a time when the grasses and flowers of the prairie created one of the most "beautiful and sublime" scenes in the country.


Last updated: April 10, 2015