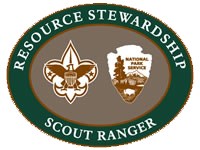 The National Park Service and the Boy Scouts of America team up to bring you the Scout Ranger Program on Frontier Days, September 27 and 28.The new "Scout Ranger" program is designed to encourage increased visitation to national parks, promote a better understanding of the NPS mission, educate young people about their responsibility in conserving our natural and cultural resources, encourage volunteer service, and promote good citizenship. Scout Ranger program participants may earn the certificate or patch by participating in volunteer service projects or education programs at Fort Scott National Historic Site.
All Boy Scouts, Cub Scouts, and Venturers who attend this event will be able to earn a unit certificate in the Scout Ranger program by doing the following for a total of five hours participation.
Field testing our new Junior Ranger Program
Participating in a service project
Taking a ranger guided tour of the fort
Attending Indian Dancing and one other program
Assisting in a flag ceremony
With an additional five hours participation you can earn an individual Resource Stewardship Scout Ranger Patch. In addition to earning the hours for the certificate listed above you are required to:
Visit Fort Scott National Historic Site both days
Attend four more programs
Assist in flag ceremonies both days
Please call Park Ranger Barry Geertsen to register your unit for the certificate or patch at
620-223-0310 or email barak_geertsen@nps.gov.
The schedule of activities is listed below:
Saturday, September 27
9:00 a.m. – Flag Raising
10:00 a.m. – Flour Sweat and Tears (Bakehouse Demonstration)
11:00 a.m. – Down the Barrel (Muzzleloading Demonstration)
12:00 a.m. – American Indian Games
1:00 p.m. – American Indian Dancing and Storytelling
2:00 p.m. – Guided Tour
3:00 p.m. – Little White Lyes – Soapmaking Demonstration
4:00 p.m. - Flag Retreat
6:30 p.m. – Evening Program – American Indian Dancing and Storytelling
Sunday, September 28
9:00 a.m. – Flag Raising
10:00 a.m. – Flour Sweat and Tears (Bakehouse Demonstration)
11:00 a.m. – Down the Barrel (Muzzleloading Demonstration)
12:00 a.m. – American Indian Games
1:00 p.m. – American Indian Dancing and Storytelling
2:00 p.m. – Guided Tour
3:00 p.m. – Little White Lyes– Soapmaking Demonstration
4:00 p.m. - Flag Retreat
Throughout the weekend
Indian Crafts
Hide painting, shield painting, ribbon art
Indian games
Sign language