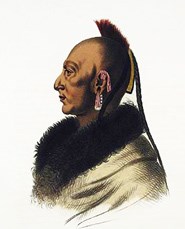 Warriors of the Woods and Prairies
Before the arrival of the Europeans, the Osage Indians roamed a vast domain in the heart of North America. Although the Osage were a proud and powerful tribe, they could not withstand the pressure of European civilization. Soon after French fur trappers established contact with the Osages in the 1670s, their way of life began to change. By 1872, encroachment from American settlers forced the Osages to relinquish most of their remaining ancestral homelands and relocate to their present reservation in Oklahoma.
Children of the Middle Waters
A spiritual people, the Osage Indians were excellent hunters and fierce warriors. Their religious beliefs were based on Wah-kon-tah, the great mystery spirit or power. In one creation legend, the Osages believed that the People of the Sky (Tzi-sho) met with the People of the Land (Hun-Kah) to form one tribe, the Children of the Middle Waters (Ni-u-ko'n-ska). Living in semipermanent villages primarily along the Osage River, the Osage Indians roamed the land between three great rivers, the Missouri to the north, the Mississippi to the east, and the Arkansas to the south. Their western boundary stretched into the windswept plains where they hunted buffalo.