Civil War Ambulance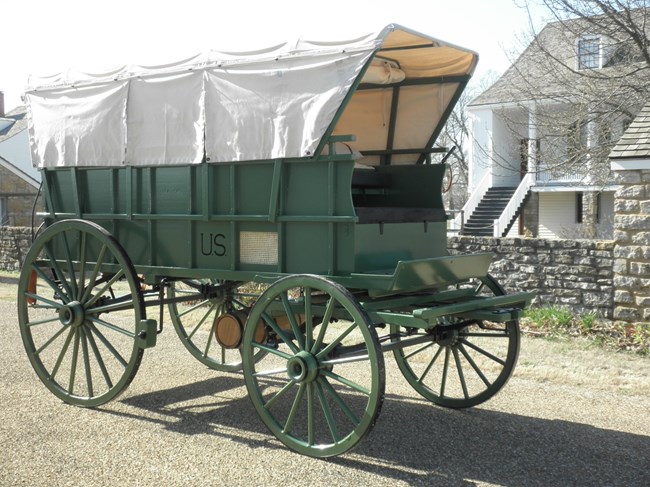 A recent exhibit addition at Fort Scott National Historic Site is truly one of a kind and will enhance visitor understanding of Fort Scott's role in the Civil War. In April 2012, the Fort received a hand crafted reproduction ambulance wagon which historically was used to transport wounded soldiers to hospitals. The ambulance, designed by Charles Tripler, who became the first medical director for the Army of the Potomac, accommodates four patients on stretchers and up to six seated in front and back. On exhibit alongside a reproduction freight wagon in one of FOSC's stone carriage houses, an informational sign will provide visitors insight on Civil War transportation.
During the Civil War, the town of Fort Scott housed one of five US Army General Hospitals west of the Mississippi River. Contemporary local newspapers referenced the sick and wounded being conveyed to the Fort Scott military hospital by ambulance wagon. Since there was not a standardized Civil War era US Army ambulance wagon design, park staff chose the Tripler Wagon. The Tripler, a type used at Fort Leavenworth as early as 1859, was very likely the typical ambulance variant used at Fort Scott during the war.
Werner Wagonworks of Horton, Kansas, was awarded the contract to construct the ambulance. A nationwide search failed to locate an existing original or reproduction Tripler, or even measured drawings, to guide construction. Hence, the contractor relied on limited photographic evidence, written references, and his decades of experience building other period wagons in order to craft the ambulance. Fort Scott National Historic Site therefore has the honor of providing the visiting public with the nation's only example of a Tripler ambulance. It will offer a unique interpretive display that coincides with the Civil War sesquicentennial.
Last updated: April 10, 2015