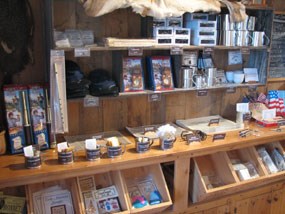 Parkstore
Inside the visitor center, students can pick up lasting reminders of their visit at the site's Parkstore. Sales items include books, postcards, maps and posters. There are also several historically reproduced souvenirs such as jaw harps, Civil War kepis, and hardtack.
Orientation Program
The orientation program gives a good overview of the site's history. The program lasts 23 minutes and is played in the large auditorium on the second floor of the infantry barracks museum
Exhibits-Indoor and Outdoor
As you tour the site, you will see several outdoor wayside exhibits that portray various stories from the site's thirty-one year history. Additionally, thirty-one historically furnished rooms give a picture of life at Fort Scott in the 1840s.
Three different areas of the site house museum exhibits.
• The infantry barracks museum, located next to the visitor center, has exhibits that address the site's history. In theupstairs portion are interactive Civil War/Bleeding Kansas exhibits that allow visitors to choose a character to follow through that turbulent time period.
• A room of exhibits in the dragoon barracks is dedicated to the soldiers of Fort Scott.
• The third area is the Wilson-Goodlander home, a former officers' quarters that dates back to the 1840s. The evolution of the building and construction techniques are featured here.