Park Store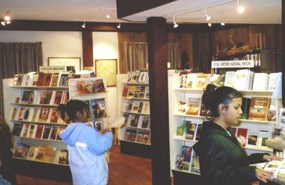 The sales outlet at Fort Scott is managed by Western National Parks and Monuments Association, a cooperating association that maintains sales areas at 52 National Park units. Cooperating associations sell educational items that promote park stories. The outlet at Fort Scott offers several books, CDs, DVDs, videos, posters, maps, and historical souvenir items.
Western National Parks Association (W.N.P.A.) is one of the largest cooperating associations supporting the National Park Service. It is considered a non-profit organization, in that all the money made in the bookstores goes toward helping the national park areas. At Fort Scott, W.N.P.A. funds free and sales publications, employs a sales associate, and donates money to support the site's interpretive operations.
Membership in W.N.P.A. costs 25.00 annually: memberships are sold at Fort Scott and at other W.N.P.A. outlets. Among other benefits, association members receive a 15% discount at all National Park sales areas that are operated by cooperating associations. For more details, visit www.wnpa.org.
For a list of all cooperating associations participating in the discount program visit the website for the Association of Partners for Public Lands.


Last updated: April 10, 2015