Pets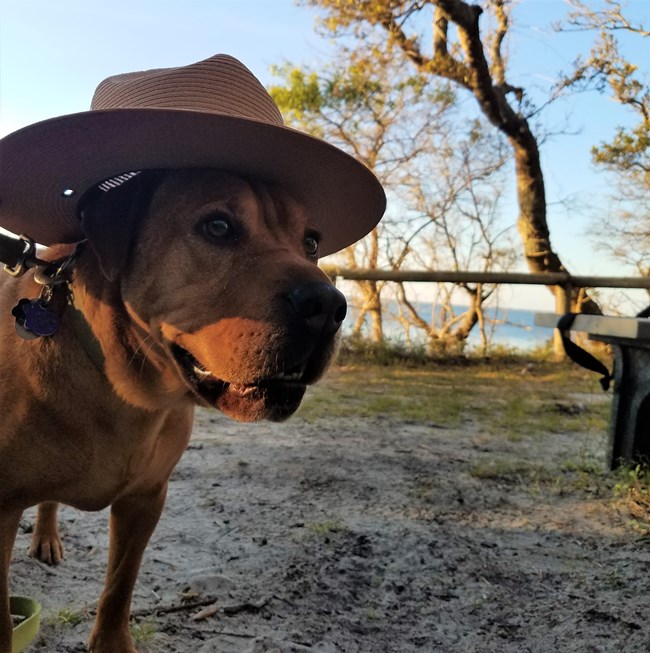 Pets are welcome at the park and many activities are available with your furry friends. Your pet must be always on a leash no longer than 6' and please, for your pet's sake, never leave them unattended. Also, for everyone's and the environment's sake, clean up after your pet. Pets are not allowed in park buildings.

You and your pet can work together to earn a B.A.R.K. Ranger certificate!

B.A.R.K. stands for:

Bag your pet's waste
Always leash your pet
Respect wildlife
Know where you can go

You can find B.A.R.K. Ranger booklets and certificates in the visitor center. Ask a ranger for more info!

Find out more about the B.A.R.K. Ranger program!

Activities you can enjoy with your pet include:
Walking the 0.3-mile Thomas Hariot loop trail through the island's maritime forest to the sandy shores of Albemarle Sound. Enjoy interpretive signs along the way describing the forest habitat, the Algonquian methods for gathering food and resources the English found valuable on Roanoke Island.

Join a Ranger-led program that are offered spring through October, with expanded offerings from Memorial Day through Labor Day. All programs are suitable for all ages and are free of charge.

Explore the maritime forest along this 1.25-mile Freedom trail that ends with views of the Croatan Sound on the western edge of the park. The trail ends near the location where the Freedmen's Colony and Civil War forts once stood. Return by the trail or use the bike path along Hwy. 64 for a loop back to the visitor center of 2.5-miles.
Last updated: February 27, 2023