Photos & Multimedia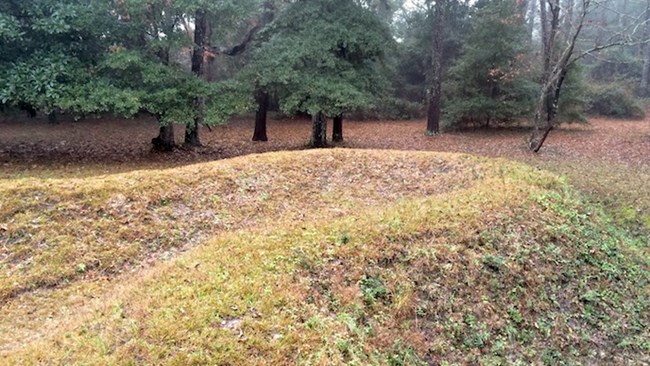 Stories abound in the woods of Roanoke Island. Who were the Algonquian people who lived here? What happened to the colonists of the 1587 expedition? How did the English and Algonquian learn from each other? What was life like in the Freedmen's Colony during the Civil War? How did Professor Fessenden succeed in sending his voice through the air?

Photos
We have included some of our favorite photographs from around Fort Raleigh National Historic Site on our
Photo Gallery page
. Fort Raleigh National Historic Site also has
an official Flickr site
(FortRaleighNPS), which you can follow to keep up with new sights and events as we add to our photograph collection.
Ranger Josh discusses the mystery surrounding the Lost Colony of Roanoke.

Duration:

6 minutes, 45 seconds
Did you know that Roanoke Island was once part of the Underground Railroad? Join Ranger Josh for a look at this important chapter of Fort Raleigh's history.

Duration:

2 minutes, 55 seconds
When Governor John White returned from England to discover that the colony he left behind had disappeared, he spent a single day on the island looking for them.

Duration:

3 minutes, 18 seconds
The journey many formerly enslaved blacks followed in the years immediately after securing their freedom behind Union Army lines on Roanoke Island was not easy. Their freedom did not guarantee equal and fair treatment from the army and they were often left without a voice.

Duration:

3 minutes, 58 seconds
Intern Mayra answers common questions about the Roanoke Island Freedmen's Colony.

Duration:

4 minutes, 26 seconds
Did you know that Fort Raleigh National Historic Site was part of the Underground Railroad? The Freedman's Colony at Roanoke Island was a beacon of hope and a first light of freedom for what would grow to be over 3,000 formerly enslaved people by the mid-1860s. While it was a safe haven for these families, it was not without its challenges and hardships as you'll learn in the video.

Duration:

22 minutes, 17 seconds


Last updated: August 17, 2022