Sir Humphrey Gilbert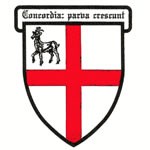 Although Sir Humphrey Gilbert was not involved directly in the Roanoke voyages, both he and members of his family participated in early colonization efforts, and Gilbert decisively influenced his half-brother Sir Walter Ralegh, the leading proponent of the Roanoke Island colonies. Born about 1539, Gilbert was the second son of Otho Gilbert and Katherine Champernowne. Compton Castle, the family seat, was then held by Otho's elder brother John; thus it was at Greenway on the River Dart, that John, Humphrey, Adrian and Elizabeth Gilbert were born. All four children were minors when their father died in 1547. Their mother then married Walter Ralegh the elder, and bore two more sons and one daughter — Walter, Carew, and Margaret Ralegh.
Educated at Eton and at Oxford, Humphrey Gilbert also spent time in the household of Princess Elizabeth, who later became Queen Elizabeth. In 1562-63, he served under the Earl of Warwick at Le Havre and was wounded during the siege. Early interested in exploration, in 1566 he prepared A Discourcs of a Discoveries for a new Passage to Cataia [China] in which he urged the queen to seek a Northwest Passage to China because the known routes were controlled by the Spanish and the Portuguese. Both Martin Frobisher and John Davys were inspired by this work. Gilbert invested in Frobisher's 1576 voyage and Davys named Gilbert Sound, near Greenland, in his honor.
Gilbert also served in Munster, Ireland, where in 1570 he was knighted by the Lord Deputy, Sir Henry Sidney. In 1571 he was elected to represent Plymouth in Parliament. In 1573 he presented the queen with a plan for Queen Elizabeth's Academy, which was to be a university in London to train the nobility and the gentry for the army and the navy. It was to be several centuries before there would be either a university in London or schools for military training.
In 1578, at the age of 40, he received Letters Patent authorizing the planting of an English colony in America. He assembled a large fleet which sailed from Dartmouth on September 26, 1578; however, storms forced the ships to seek refuge in Plymouth until November 19. Although this attempt failed, it got his brothers Walter and Carew Ralegh involved in American Exploration. Yet it was not until 1583 that he made a second attempt, sailing from Plymouth on June 11. One ship, Barke Ralegh, turned back immediately because of illness, but Gilbert and the other ships arrived at St. John's, Newfoundland, on August 3 and took possession two days later. Because it was small and could explore harbors and creeks, Gilbert now sailed on Squirrel, a ship of 10 tuns, rather than Delight, his 120 tun flagship. On August 29 the latter ship wrecked with the loss of 100 lives and many of Gilbert's records. On the return voyage to England to record his claim Gilbert remained aboard Squirrel rather than transferring to the larger Golden Hinde as urged by his men. On Monday, September 9, he was observed on deck reading a book. As the ships drew near he was heard to say, "We are as near to heaven by sea as by land." Later that evening the small ship disappeared, swallowed up by the sea.
Married in 1570 to Ann Aucker, whose father and grandfather had fought in the final defense of Calais, Gilbert was the father of two sons — John and Ralegh — who with his brothers Adrian Gilbert and Walter Ralegh continued the family involvement in the exploration and colonization of the New World. On February 6, 1584, Adrian Gilbert obtained Letters Patent to continue the search for the Northwest Passage. And on March 25, 1584, Walter Ralegh obtained a Royal Patent to explore and colonize farther South. His expeditions to what is now North Carolina between 1584 and 1587 are known as the Roanoke Voyages.
Sir Humphrey's older brother, Sir John Gilbert, inherited Compton Castle from their father. when he died without issue he left the property to Sir Humphrey's older son, also Sir John Gilbert. The younger Sir John accompanied Ralegh on his voyages to Guiana in 1595 and Cadiz in 1596. In the latter expedition he was knighted by the Earl of Essex. Married to Alice Molyneux, he died without issue in 1608, leaving Compton Castle to his brother Ralegh Gilbert.
Ralegh Gilbert continued the colonizing efforts of the family and in 1606 was one of eight grantees who received Letters Patent from King James I. This grant provided for two colonies — the London Colony and the Plymouth Colony. Under Captain Christopher Newport, the London Colony sailed from London in December 1606 and reached the Chesapeake Bay on May 13, 1607. There they founded Jamestown, the first permanent English colony in the New World. Led by Ralegh Gilbert and George Popham, the Plymouth colony sailed from Plymouth on May 31, 1607 and arrived in what is now the state of Maine on August 1, 1607. There they built the Fort of St. George on the Sagadahoc River (now the Kennebec River). The ensuing winter was severe and many of the colonists died. When spring came Ralegh Gilbert learned of the death of his older brother, his inheritance of Compton Castle and the necessity of returning to England to claim his estate. The colony went with him. Later Sir Ferdinando Gorges made a second unsuccessful attempt to colonize the same area. And in 1621 Ralegh Gilbert was a member of the Council of England for the Plymouth colony. He died in 1634.
Descendants of the Gilbert family live in Compton Castle today. For over a century it was not family property and had become a ruin; however, in 1930 Commander Walter Ralegh Gilbert and his wife Joan bought the castle which they painstakingly restored. Mrs. Gilbert lived at Compton Castle until 1984. Her son and daughter-in-law Geoffrey and Angela Gilbert with their three children, Humphrey, Arabella, and Walter Ralegh, live there today. A National Trust Property, parts of Compton Castle are open to the public several days each week. In the 20th century, Greenway, the birthplace of Sir Humphrey Gilbert, was the home of the mystery writer Agatha Christie, a close friend of the Gilbert family. The Gilberts, still interested in the New World, participated in 400th Anniversary celebrations in both Newfoundland and North Carolina.
Credits:
Text: John D. Neville, Chairman, North Carolina 400th Anniversary Committee
Illustrations: Vicki Wallace
---
Last updated: April 14, 2015