Search for the Lost Colony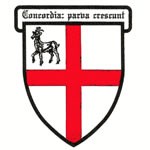 After John White's departure from Roanoke Island in August 1587, neither he nor any other Englishman ever saw the colonists again. When he reached England on November 8, White immediately began to assemble a fleet to carry supplies to America and within four months was ready to sail; however, the impending attack by the Spanish Armada led the Privy Council to prohibit his leaving England. Two of his smaller ships — the 30-tun bark
Brave
and the 25-tun pinnace
Roe
— were deemed inadequate for defense purposes and permitted to sail. On the voyage, White's party followed the usual practice of engaging in piracy on the way. Unfortunately, for both White and the colony, French ships attacked them and took their supplies. They limped back to England, and White did not reach Roanoke Island until 1590.
The colony, however, had not been abandoned. In 1587, Captain William Irish unsuccessfully attempted to find them on the Chesapeake Bay, not knowing that they probably were still on Roanoke Island. Ralegh himself was active in England. On 7 March 1589, he signed an agreement with nineteen "Gentlemen and Merchants" of London concerning the colony, making preparations for its continued support. However, it was not until 20 March 1590 that the relief expedition sailed from Plymouth. Again, plundering the seas would be its primary objective. White was only a passenger; relief of the colony was secondary. The fleet consisted of three small ships — Hopewell, Little John and John Evangelist — and among the captains was Christopher Newport, better known for his later involvement at Jamestown. A fourth ship, Moonlight, owned by William Sanderson (Ralegh's banker) and commanded by Edward Spicer, sailed separately. The fleet took several prizes as it passed through the Caribbean and did not reach Hatorask, an inlet near modern Oregon Inlet until 15 August. Shallow water made it necessary to anchor three miles offshore. The next day, they saw smoke rising south of the inlet and, thinking it a signal fire, wasted time and energy heading towards it. When they finally attempted to reach Roanoke Island in two small boats, the weather changed and a northeaster caused huge waves. Spicer's boat overturned and he and six of his men drowned. Finally, on 18 August 1590, White reached Roanoke Island. There he found the houses "taken downe" and the word "CROATOAN" carved on the palisade that had been built around the settlement site during his absence. Rough weather prevented their going to Croatoan and forced them to return to England rather than winter in the Caribbean as they first planned.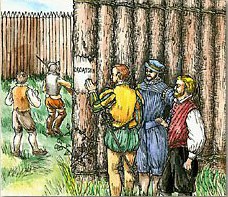 Perhaps because of the expiration of his patent of discovery in 1590, Ralegh seems to have lost interest in the colony. In 1591 he sent another expedition to America. Headed by John Watts and including Hopewell, Little John and perhaps John Evangelist, the expedition seems to have made no effort to find the colony. In 1595 Ralegh himself finally sailed for America, but he went to Guiana rather than to Virginia. In 1602, fifteen years after the abandonment of the colony, Ralegh renewed his search for it by sending Samuel Mace, who had been to America twice before. This voyage may have been an effort to keep Ralegh's claims alive by suggesting that the colony still existed. To prevent the crew from spending time cruising the shipping lanes rather than searching for the colony, Ralegh hired the ships for monthly wages. After making landfall near Cape Fear rather than Hatteras, Mace and his men spent a month gathering sassafras, which brought a high price in London, but never searched for the colony. Bad weather was the excuse he offered. In 1603 Ralegh engaged Mace and Bartholomew Gilbert for another expedition. Gilbert failed to find the Chesapeake Bay and landed instead near the entrance of the Delaware Bay, where he was killed by the Indians. Mace may have visited the Chesapeake Bay. Powhatan later complained that Englishmen had captured some of his people, and records show that Indians were in London in August 1603. But by now Ralegh himself was in no position to send other expeditions — he was soon to be imprisoned in the Tower of London by the new king, James I.
The Roanoke colony, however, was not forgotten. Twice in 1604 George Waymouth presented versions of a treatise called The Jewell of Artes to the king. It assumed that the lost colonists had been found and could be reinforced. Waymouth led an American expedition but it went far to the north of Roanoke. The play Eastward Hoe, by George Chapman, Ben Jonson, and John Marston, produced in London in 1604, refers to colonists left in America. Its production implies that a broadside about the colony had recently been printed. Christopher Newport returned from a Caribbean voyage in 1604, on which he may well have reconnoitered the route to the Chesapeake. (In 1607 he reached that area with no trouble.)
In 1604 prisoners captured by the Spanish in St. Helena Sound on the Castor and Pollux said that their expedition, while French, had an English captain, John Jerome of Plymouth. This commercial venture had been instructed to call at Croatoan, but Jerome was killed and the ship captured before the expedition reached the Outer Banks.
In 1607, when the English established their first permanent settlement at Jamestown, they were well aware that a colony had been left on Roanoke Island twenty years earlier. The Jamestown colonists made several attempts to find the lost colonists; and investigated Indian reports of Europeans living at various locations; but no survivors ever surfaced. The fate of the lost colonists remains one of the great mysteries of American history.
Credits:
Text by John D. Neville, Chairman, North Carolina 400th Anniversary Committee
Illustrations: Vicki Wallace
---
Last updated: April 14, 2015