John White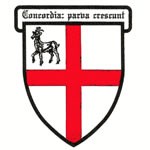 Although his beautiful watercolor drawings are one of the most valuable sources of information about the Roanoke voyages and he served a governor of the 1587 colony, John White's life is almost unknown. Nothing is known for certain about his family background; however, the fact that his daughter Eleanor married a bricklayer-tiler suggests that he was of modest origins. The granting of a coat of arms in 1587 suggests the rise of White in the social scale because of his new position; yet, the quartering of his arms tells little about him other than the mere possibility of a connection with the Whites of Truro in Cornwall. Many of Ralegh's venturers were from Cornwall and Devon. White's wife is never mentioned and she probably died before he joined Ralegh's efforts. His birthdate is unknown; however, the fact that he became a grandfather in 1587 suggests that he was born between 1540 and 1550.
In the late 16th century, there were several men in England named John White. Familiar enough with fortifications to draw accurately English forts in Puerto Rico, White may be the same John White who was an engineer in Ireland from 1567 to 1568. Also, he obviously had training as a limner (miniature painter) and the John White who was a member of the Painter-Stainers Company in London in 1580, and involved with the Office of the Revel in the production of the Masque of the Amazons in 1579, quite likely was the colonist artist.
White may have been on Martin Frobisher's arctic voyage in 1577. A copy of a lost White drawing of a battle between the English and the Eskimos is so accurate that only someone on the voyage could have painted the original. The high calibre of this and other drawings may be the reason White was chosen for the Roanoke voyages. He may have been on the Amadas and Barlow expedition of 1584 as well as with the two colonies. As the artist for the Roanoke voyages his instructions would have been to "drawe to lief one of each kinde of thing that is strange to us in England.".This would include not only plants, fish, and animals, but also the people and their customs. Although most of his drawings were from life the ones from Florida may have been copies of those by the French Huguenot artist Jacques LeMoyne, who was on the expedition of Rene de Laudonniere to Florida from 1563 to 1565. One of White's maps also contains elements of a LeMoyne map of Florida.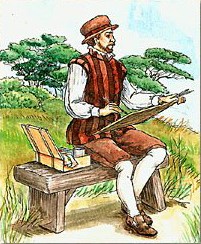 On the 1585 expedition of Sir Richard Grenville and Ralph Lane, the artist John White and the scientist Thomas Harriot spent their time describing the New World for the English. Visiting Indian villages and mapping the area as far north as the Chesapeake Bay, White left a good record of the region, but showed little of the English themselves other than their forts in Puerto Rico. He possibly made several copies of each drawing — one for Harriot and one for his own files. Unfortunately for posterity, in 1586, when the colony made its hasty departure with Sir Francis Drake, part of White's pictorial accounts and Harriot's journals were lost.
The next year, however, John White returned to Roanoke Island. This time he was governor of the colony and with him was his daughter Eleanor, who was married to Ananias Dare, one of the twelve assistants to the governor. From the beginning White had problems with Simon Fernandes, the pilot. Sailing from Portsmouth on 26 April 1587 the small fleet did not actually leave England until May 8. They finally reached the Outer Banks on July 22 where they were to pick up men left by the supply ship the previous year. The colony was then to settle on the Chesapeake Bay. But Fernandes refused to take the colonists any farther; hence, the second colony was also on Roanoke Island. There on 18 August 1587 Eleanor White Dare gave birth to a daughter, Virginia, the first child of English parents born in the New World and the grand-daughter of Governor White.
This colony also had limited supplies; thus the settlers persuaded Governor White to return to England for provisions. Reluctantly he agreed and after a difficult voyage he arrive in Ireland in Mid-October. In England White assembled a small fleet only to have the Council prohibit its sailing because of the impending attack by the Spanish Armada. He was, however, permitted to sail with two small ships. French ships attacked them and forced them to return to England. It would be August 1590 before White returned to Roanoke Island. There he found that the colony had disappeared, the only clue to its fate being the word CROATOAN carved on a tree. Storms made it impossible to go to Croatoan to search for the colonists, none of whom (including White's daughter and grand-daughter) were ever seen by Englishmen again. The unfortunate White returned to England, arriving in Plymouth on 24 October.
Little is known about him afterwards. The last time he is heard from is in a letter to Richard Hakluyt written from his home at Newton in Kylmore, County Cork, Ireland, on 4 February 1593. In this letter he commends "the reliefe of my discomfortable company of planters in Virginia, to the merciful help of the Almighty...." More than likely White was involved in Ralegh's colonization efforts in Ireland. There is a possibility that White went on a voyage in 1601 and it may have been he who died in May 1606 when Bridgit White was appointed administratix of the estate of her brother John White, "late of parts beyond the seas...."
White was by far a better painter than governor. He was not strong enough to force Fernandes to follow instructions. Sea captains on each voyage were more interested in privateering than in colonizing and White could not make them follow Ralegh's instructions. Even with his own family lost, White could not get the captains to go to Croatoan. Regardless of his shortcomings as a leader, White was an excellent painter and his water-colors are an important source of information about the Roanoke Voyages. As copied by Theodore De Bry in his engravings used as illustrations for Thomas Harriot's text in America published in Frankfort (1590), White's paintings greatly influenced European attitudes about the coastal Indians of North America. They have been reprinted in America 1585; The complete Drawings of John White by Paul Hulton published by the University of North Carolina Press in 1984.
Credits:
Based on "John White" by John d. Neville, Chairman, North Carolina 400th Anniversary Committee;
edited and revised by lebame houston and Wynne Dough.
---
Last updated: April 14, 2015