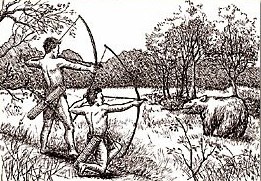 Lacking conventional tools, or metal, they used the materials available to them and employed a high degree of ingenuity in devising methods for catching or killing fish and game. The Europeans were impressed especially, with their fishing techniques, which proved much more effective in the shallow sounds surrounding Roanoke Island than those employed by Ralegh's colonists.
For the most part, the Indians caught their fish in net-like obstructions called weirs, which they placed across streams or channels in much the same way as modern pound-netters catch the seasonal runs of striped bass or shad. The weirs were made of reeds, woven or tied together, and anchored to the bottom by poles stuck into the sand. With their tops extending above the surface of the water the weirs looked very much like fences, and were arranged in varied patterns designed to catch the fish, and then impound them.
One of the colonists, Thomas Harriot, described the Indian's weir-fishing technique as " settinge opp reedes or twigges int he water, which they soe plant one with another, that they growe still narrower, and narrower, " thus preventing the fish, once imprisoned, from swimming out again.