Field Trips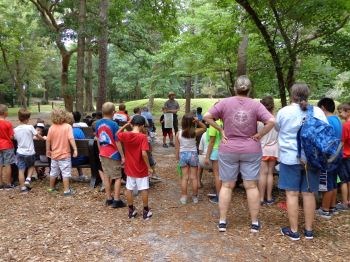 Bringing your class to Fort Raleigh National Historic Site can be a rewarding experience.
School groups may attend one of our ranger-led programs or you may prefer a self-guided tour of the park grounds and visitor center museum.

The free museum displays exhibits and artifacts related to the Carolina Algonquian, the first English settlements in North America, the Civil War, a Freedmen's Colony on Roanoke Island and Reginald Fessenden's radio experiments. A 17-minute film on the English settlements is shown in the theater every half-hour.
The park can send the Field Trip Guide directly to anyone who is interested in learning more. The guide contains places to explore in the park, considerations before you arrive, a timeline of park events and a recommended online resource section.

For scheduling ranger programs or more information about self-guided tours, please contact the visitor center at (252) 475-9002 between 9 am and 5 pm seven days a week.
Last updated: August 30, 2020