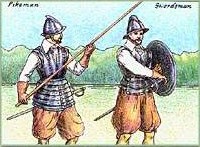 In 1584 or early 1585, someone aware of Ralegh's intentions prepared detailed written advice on how to build, man, and run a military base in the New World. Expecting little trouble from the "naked" natives, but sharp engagements with the Spanish, the anonymous writer suggested that Ralegh establish a colony of 800 soldiers-400 arquebusiers, 150 archers, 100 swordsmen, and 150 armored men carrying pikes and other shock weapons.
About the same time, Richard Hakluyt published his discourse of Western Planting, a defense of English expansion into North America and a handbook for colonists and investors. Hakluyt recommended "provisions tendinge to force" that included not only arquebusiers and archers, but also makers of bows, arrows, arrowheads, saltpeter, and gunpowder; pike makers; and makers of doublets and targets.
Ralegh may have considered the two proposals, but he clearly reduced the suggested number of settlers. He did not send 800 soldiers to Roanoke Island; the actual number was slightly more than 100. While there is no extant narrative description of military personnel in the 1585-1586 colony, there are numerous references to arms and armor-both English and Algonquian. John White's paintings add considerable detail, especially to the latter. After the failure of the military settlement, Ralegh, in 1587, launched his second full-scale colony, again with a membership barely in excess of 100. Accounts of the settlement in 1587, and the search for the colonists in 1590 make scant reference to arms and armor, perhaps because the character of the venture differed from that of 1585.
Most of the weaponry mentioned in the reports, paintings, and proposals can be classified as either shock weapons, missile weapons or firearms.