Safety
If there is an emergency in the park, please dial 9-1-1.
General Safety
Keep in mind that Fort Pulaski was built for war and not safety.
Insects
Use insect repellent in warmer months or stay inside at dusk or dawn when mosquitoes are most active. Gnats and mosquitoes are plentiful. Beware of biting fire ants inside Fort Pulaski and throughout the national monument.

Wildlife
The national monument has a variety of wildlife. Please respect their home and maintain a safe distance from all wildlife. Deer, alligators, birds, raccoons, coyotes, snakes, and turtles are just some of the wildlife that inhabit the park.

Alligators are native to coastal Georgia and you may encounter them in Fort Pulaski's moat, and on the grassy areas around the fort. Do not approach any alligator or allow children or pets to do so. Stay at least 30 feet away.

Wildlife injured through natural processes can be common in the wild, however, wildlife injured by human actions or any endangered wildlife in need of assistance should be reported.

Weather
Weather conditions can change suddenly. Check local weather reports and forecasts before traveling to the park. When in the park be prepared to take shelter and have a plan ready in case of inclement weather. Link to park weather page.

Heat Emergencies
Heat exhaustion and heat stroke are possible in the summer months; we encourage all visitors to stay vigilant about drinking water. We offer water fountains/refill stations near the visitor center restrooms. No vending machines are available within the park.

Plants
Watch out for plants with spines or spurs.

Visiting Historic Sites Safety
Remain out of closed areas, do not cross barriers.
Obey all signs and avoid the edges of the upper fort walls.
Beware that stairways and the upper level of Fort Pulaski have no handrails.
Climbing is unsafe and can damage the historic fabric of structures.
Please keep off the earthworks (mounds) of the demi-lune and the cannon throughout the park.
Uneven surfaces are common throughout all historic structures.
Walkways can be slippery and damp especially in the rain.
Alcohol is not permitted within the area. Open containers of alcohol are prohibited within the passenger compartments of motor vehicles.
All cultural and natural resources are protected by law. Climbing on historic features is not permitted. The possession of metal detectors within the park is prohibited.
Many parts of the fort are fragile. Please help us preserve Fort Pulaski.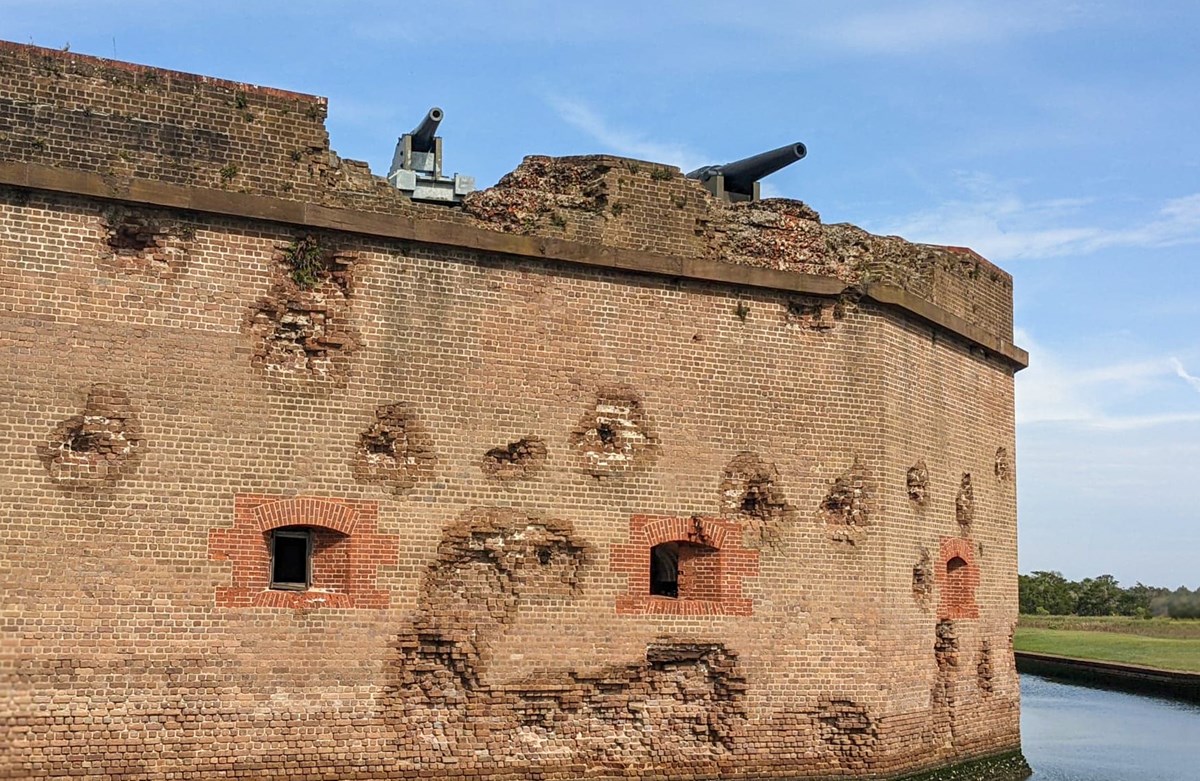 Last updated: October 9, 2020