Directions & Transportation
Car:

From Interstate I-95, take Exit 99 onto Interstate I-16 East (James L Gillis Memorial Hwy) for 7 miles.
Take Exit 164A onto Interstate I-516 East toward US-80 East.
Take Exit 3 (US-17 S/US-80 E) toward US-80 East.
Turn left onto Ocean Highway, Ogeechee Rd (US-17 N, US-80 East).
Bear right onto West Victory Drive (US-80 East).
Continue on US-80 East for 13 miles.
Fort Pulaski National Monument entrance will be on the left hand side of US-80; the entrance is just after a turn in the highway.
GPS Coordinates for Fort Pulaski National Monument:
N32° 01.680 W080° 53.525
Distance to Tybee Island/Fort Pulaski National Monument:

Atlanta: 265 miles, 4.5 hrs

Macon: 183 miles, 3.0 hrs

Columbus: 276 miles, 4.5 hrs

Jacksonville, FL 156 miles, 3.0 hrs

Charleston, SC 125 miles, 2.5 hrs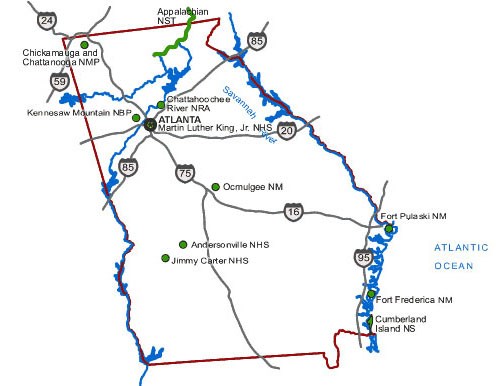 Last updated: September 20, 2016