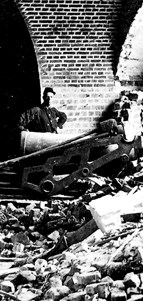 The National Park Service Sesquicentennial Commemoration
The Civil War was a defining event in our nation's history. The National Park Service is commemorating the 150th anniversary of the Civil War from 2011 to 2015.
Civil War to Civil Rights

The Civil War culminated 80 years of sectional tensions over economics, cultural values, the extent and reach of the federal government, but, most importantly, the role of slavery in American society. Following the fall of Fort Pulaski in April 1862, Union Major General David Hunter emancipated area slaves. Fort Pulaski became a final destination on the Underground Railroad as slaves sought freedom on Cockspur Island.

Fort Pulaski National Monument will portray the fort as it was during the period of the Civil War from 1861 to 1865. As a part of our commemoration, we are using reproduction flags as a visually effective way of depicting historic events.
The Confederate National flag will fly above the fort six days a week from March 2011 until the 150th anniversary of the Siege of Fort Pulaski in 2012.The park will fly the 34-star United States flag on Sundays, in order to continue to interpret the Union occupation of the fort from April 1862 until the end of the Civil War. Likewise, when Fort Pulaski begins flying the 34-star American flag in April 2012, the Stars and Bars will fly on Sundays to interpret the Confederate occupation.