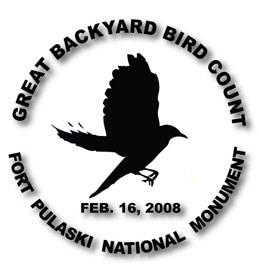 Count for fun...Count for the future!
Participate in the Great Backyard Bird Count this February. Last year, birds watchers around the country submitted a record 80,000 checklists reporting 11 million birds and over 600 species! With your help, this record can be broken in 2008.
Fort Pulaski National Monument will participate in this unique event on February 16, 2008 starting at 9:00am. People of all ages and all levels of bird-watching experience are invited to take part. It is a great way to learn more about the birds in your backyard and neighborhood. It is also an engaging educational activity for families and groups. Check back soon for more details!
For more information visit www.birdcount.org