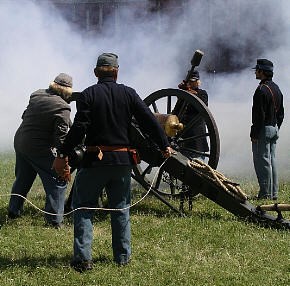 Date May 22, 2006
Contact: Charles E. Fenwick, Superintendent, 912-786-5787
Superintendent Charles E. Fenwick announces that Fort Pulaski National Monument will begin its expanded summer schedule and daily full schedule of ranger programs on Saturday, May 27, 2006. Effective May 27, the Visitor Center will be open daily from 9:00 AM to 6:00PM, and the Historic Fort will be open daily 9:00 to 6:30 PM. All park gates will close at 7:00 PM.
The summer schedule will be in effect until the close of the Labor Day weekend. The National Park Service will be offering a variety of special programs on Saturday, June 3, 2006, rangers and living history volunteers will be offering cannon firings, musket demonstrations,guided fort tours, and special talks.
Activities are scheduled from 11:00 AM to 4:00 PM. Fenwick remarked, "This is a great opportunity for residents and visitors alike to learn, have some summer fun and take pride in our local history."
Visitors to Fort Pulaski will see one of the nation's finest examples of a seacoast fortification. Construction began in 1829, and required 18 years, 25 million bricks and $1 million dollars to complete. In April 1862, Fort Pulaski was the scene of an important battle—a battle which proved to be a turning point in military history. Bombarded by heavy, rifled cannons, the fort surrendered after 30 hours. The battle demonstrated the power of new, long-range weaponry and signaled the end of masonry fortifications.
Fort Pulaski National Monument was established October 15, 1924, by proclamation of President Calvin Coolidge. The area was turned over to the National Park Service on July 28, 1933, by order of President Franklin D. Roosevelt. Fort Pulaski National Monument is on U.S. Hwy 80, 15 miles east of Savannah. An entrance fee of $3 per person is charged; ages 15 and under are free.
-NPS-