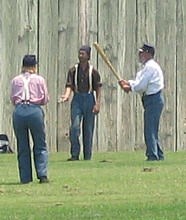 Date: September 2, 2006

Location: Fort Pulaski
Contact: Charles E. Fenwick, 912-786-5787
"Blue vs. the Gray" End of Season Celebration
To help celebrate the end of the summer season, the staff at FortPulaskiNational Monument invites you to attend a special one-day "Blue vs. the Gray" Celebration on Saturday, September 2, 2006. Activities at FortPulaski will include cannon firings, skirmish drills, Civil War soldier talks, and guided fort tours. Activities are scheduled from 10:00 AM to 4:00 PM.
The highlight of the day will be a unique 1862-style baseball game between members of the 48thNew York and the 8th Georgia Regiments. The "historic" game begins at 11:00 AM, followed by a 12:00noon game for kids and families. The public is invited to be a part of history and play a game of baseball inside FortPulaski. Visitors are encouraged to bring lawn chairs and non-alcoholic beverages.
During the Civil War soldiers at FortPulaski often played baseball to escape the boredom of garrison life. In fact, one of the earliest known photographs of a baseball game was taken inside FortPulaski, and featured members of the 48th New York Volunteer Infantry. Baseball was popular before the war in the Northeastern United States, but its popularity spread rapidly as thousands of young men from other parts of the country joined the ranks.
The baseball game on Saturday, September 2, will feature vintage 1862 rules. The hurler (pitcher) must throw underhand. The ball was literally pitched like a horseshoe. Overhand pitching was not allowed until 1884. Gloves were not used, and a "club nine" (team) was awarded an out by either catching the ball on the fly or after one bounce. The batter was known as a "striker," and ground balls were called "daisy cutters." Though the terminology and rules have changed, the great tradition of baseball lives on today.
Schedule of Events for Saturday, September 2:
10:00 Guided Fort Tour

10:30 Cannon Firing

11:00 Historic Baseball Game
12:00 Kids Baseball Game
1:00 Cannon Firing & Skirmish Drill

1:30 Musket Demonstration
2:00 Cannon Firing

2:30 Civil War Medicine Demonstration
3:00 Cannon Firing & Skirmish Drill
4:00 Cannon Firing
Sunday, September 3, will feature additional cannon firings and musket demonstrations. September 3 marks the final Sunday in 2006 for cannon firings.
FortPulaskiNational Monument is on U.S. Hwy 80, 15 miles east of Savannah. An entrance fee of $3 per person is charged; ages 15 and under are free.
-NPS-