2007 Southeast Regional Stamp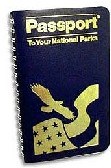 January 30, 2007
For: Immediate Release
Contact: Charles E. Fenwick, 912-786-5787
Fort Pulaski National Monument is pleased to announce that it has been selected as the 2007 Southeast Regional Stamp winner in the Passport to Your National Parks program. Each year one national stamp and nine regional stamps each highlighting a different park is released.
Eastern National and the National Park Service first introduced the passport program in 1986. The passport book contains over 100 pages of colorful maps and photographs, a national park list dividing the parks into nine regions, as well as many interesting facts on America's National Parks. National Park visitors can also collect the commemorative stamps and color- coded cancellation stamps inside the book.
For the selection of commemorative stamps, Eastern National holds a contest for NPS employees and volunteers to select ten images (one national and nine regional). Fort Pulaski Volunteer-in-Parks (VIP) Tom Boardman captured the winning photograph that was selected to represent the entire Southeast Region for 2007. This is Fort Pulaski's first selection in the passport program. Beginning this February park visitors can collect the 2007 Southeast Regional Stamp commemorating Fort Pulaski National Monument.
For more information on the commemorative stamp and passport program, contact the park at 912-786-5787, or visit eparks.com, the online store of America's National Parks.
Fort Pulaski National Monument is on U.S. Hwy 80, 15 miles east of Savannah. The park is open daily 9-5; park gates close at 5:30 PM.
Last updated: April 14, 2015