Natural Features & Ecosystems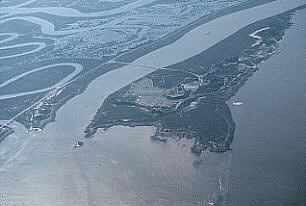 Approximately 90% of Fort Pulaski National Monument is classified as wetland. With over 4800 acres of salt marsh that are covered twice daily with nutrient- rich marine waters, the monument preserves and protects a sizeable portion of one of the most productive and prolific ecosystems known to man.
Located only a few miles from the Atlantic Ocean, the waters within the park's boundaries are teeming with shrimp, oysters, clams, mussels and the usual variety of fish found in southern coastal estuaries. The monument protects some of the most pristine resources in the area, as indicated by the presence of Class 1 waters for recreational harvest of shellfish.
However, neither of the islands that make up the site have escaped the influence of man. Between them, Cockspur and McQueens Islands are composed of approximately 500 acres of dredge spoil. The vegetation that has developed on these spoil deposits and altered marshlands is similar to many other sites adjacent coastal navigation routes in the southeast.
The high proportion of non-native species associated with these disturbed habitats is typical and to be expected. Interestingly enough, the maritime forest that has developed on the central part of Cockspur Island displays a high degree of natural integrity. The island offers a particularly good opportunity to study the influences of man on the natural processes of a saltwater estuarine ecosystem.


Last updated: April 14, 2015